Kerdiston History - Thomas Outlaw - Reepham
---
1646 - Thomas Outlawe, Edward Heyward and the wastes of the manor of Kerdiston
Ancestors of Thomas OUTLAW The George-Powell Family
"Here lyeth the bodie of Thomas Outlaw of Cardeston Gent who died 15th May 1650". Cardeston is a 'lost' village close by.

"Kerdeston or Cardeston, cum Reepham"
Burgolion's Manor.
William Earl Warren had a lordship here, of which Godwina freeman, was deprived, (this was Earl Goodwin father of King Harold,) on whose death the Conqueror seized it, and Ralph held it at the survey, under the Earl Warren
Kerdeston Manor.
Another lordship in this town was in Ralph Lord Bainard; of this, Tord, a freeman, was deprived at the conquest, and Jeffrey Bainard held it under Ralph at the survey;
Sir James Boleyn of Blickling had also some interest here, granted to him by King Henry VIII. on March 22, in his 31st year, and had license in the 1st of Queen Mary, to alienate it to Edmund Lomner and Sir Thomas Paine; in Sir James's grant, the 2 manors of Kerdeston and Refham are mentioned; and in the 2d of Edward VI. Sir James manumised two villains for 8l.

On August 22d Queen Elizabeth, in her 28th year, granted to Ambrose Willoughby, Esq. the site of Kerdeston manor, with lands; it was after in the Crown with the patronage of the church.
Flickriver Most interesting photos tagged with Little Witchingham
---
Norfolk Record Office - NROCAT- on-line catalogue
1647 - Dispute between Edward and Francis Heyward against Thomas Outlaw and others concerning Kerdiston Heath
Commissioners warrant and affidavit of notice in a dispute between Edward and Francis Heyward against Thomas Outlaw and others concerning Kerdiston Heath - 1647
Note the previous law suits about three highways running through Caddow Green and Kerdiston Heath, nd [17th century];and a certificate of a commission relating to a Chancery case between Edward and Francis Heyward against Thomas Outlaw and others concerning the manorial waste of Kerdiston and Reepham, 23 Charles I [1647-1648]. 1647-1648
Chancery decree in a suit between Edward and Francis Heyward against Thomas Outlaw and others concerning the waste in Kerdiston with Reepham held of the manor of East Greenwich 1656
5. Robert Outlaw of Kerdiston ?
...
Children of Thomas Outlaw and Margaret Cory:
2. Thomas Outlaw of Kerdiston ca 1600 - 15 May 1650 ?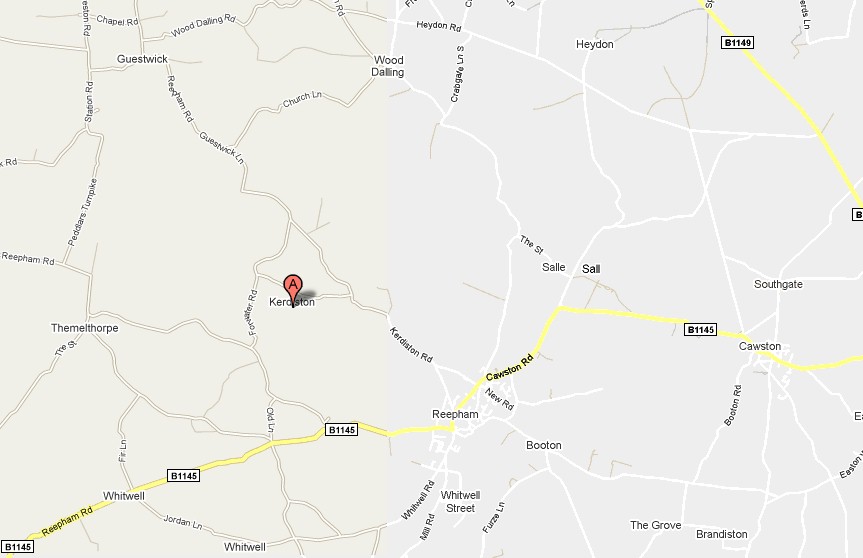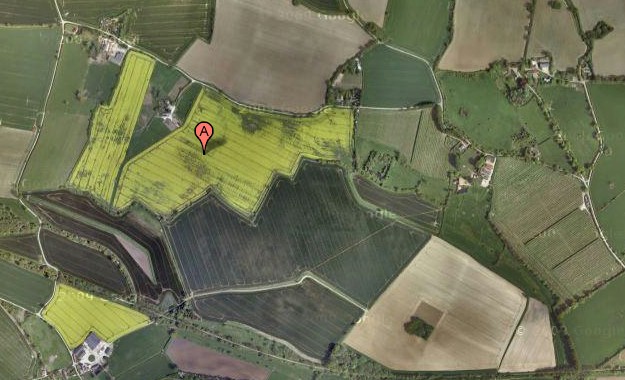 Stalham Benefice - Ingham History
---
Researched By John Kerrison U.S.A. 2002
The first documented Kerrisons are William de Kerdiston, 1250, roger de Kerdiston 1275.
Kerdiston is a parish in the county of Norfolk, England, near Reepham. The homestead of Cenred which is a very old English version of kerdi, later became known as Kerdiston. The suffix "ton" later added, which meant homestead or place. In the Domesday records of 1066, ordered by King William, Kerdiston in old English is spelled Kerdistuna. "tuna" meaning the same as "ton" which was adopted later on. Before the 1000s there was very little need or use of surnames, but eventually local description increased by 1066 and up to the first quarter of the 13th Century. Local descriptions were nothing more than an address. For example, William de Kerdiston. The preposition "de" is generally Latin and is equivalent to "of", "at" or "in". Later generations dropped the "de". Example, John Kerdiston 1334, Thomas Kerdiston 1446.
The following briefly describes the Noble History of Kerdistons and Kerrisons.
1. History of Norfolk County, page 479
Among the Norfolk Knights summoned to attend the King of Gloucester, 1287, in the reign of Edward I, to go with horses and arms against the Welsh were William de Kerdiston, John de Hengham, ........"
2. page 421
Thomas Kerdiston, archdeacon of Norfolk, was buried at the Abby of Langley before the alter of the holy rood in 1276. Margaret, wife of Sir William Kerdiston, was buried near the archdeacon in 1328, and Sir Roger Kerdiston, in 1337.
3. In 1339 William de Kerdiston obtained a license to crenellate his manor house, at Claxton, and originally its moat enclosed four acres, including part of the road. His son, Walter de Kerdiston completed it. Behind the castle lie the marshes, once the sea for ships used to anchor here.
4. Burke's Domant and Extinct Peerages
In the 1st year of King John's Reign, Roger de Kerdeston paid a fine to the crown of 30 marks to have a confirmation of those lands which formerly belonged to Herbert de Rie. William de Kerdeston, who was Sheriff of Norfolk and Suffolk, in the 25th and 26th Edward I. He married Margaret daughter of Gilbert de Gant, Baron of Folkingham, in Lincolnshire, and was survived by his son Roger de Kerdeston, who in right of his mother, was one of the co-heirs of his Uncle Gilbert de Gant, Lord Gant who d.s.p. in 1297; and doing homage had livery of the lands which so descended to him. In the 34th Edward I, This Roger received the honor of Knighthood, with Prince Edward, by bathing, and, having his livery of robes, and all accoutrements relating to that solemnity out of the King's wardrobe. In the 5th Edward III, he was made sheriff of Norfolk and Suffolk and governor of the Castle at Norwich. In 1332 he was summoned to parliament as a Baron, and from that period to 21 June 1337. His Lordship died in the latter year, and was survived by his son William de Kerdiston 2nd Baron, summoned to parliament from 20 December 1337, to 3 April 1360. this Nobleman distinguished himself in the French wars, and had the honor of participating in the glories of Cressy. Died in 1361, leaving according to some inquisitions, William, his son and heir, then 36 year of age. Which Sir William de Kerdeston, Knight, claimed part of his father's land as his heir, and not being opposed, was admitted to them. He was however, never summoned to parliament, and probably some doubt hung over his legitimacy. In Morant's History of Essex, which is partly corroborated by a pedigree in the College of Arms, it appears that William de Kerdeston, the last Baron, left issue by Alice de Norwich, his 2nd wife, a son, William; but by his 1st wife, 2 daughters, who are called in the MS pedigree above cited, his co-heirs. Upon failure of issue of Sir William de Kerdeston, the reputed son of the last Baron, the Barony of Kerdeston fell into abeyance, as it still continues with the descendents of Margaret, Lacy Tendring and Maud de Burgheresh. Arms - Gu, a saltier, engrailed, arg.,
...
Crests and Coat of Arms
1. Kerdeston, Eng. on a mountain, ppr., a Goshawk
2. Kerdiston, Eng. out of a tower, a Demigraffin, ppr.
3. Kerdiston, Eng. a dexter hand, apaumee, couped, in fess.
4. Kerrison, Vart., Suff., on a mount, vert, a tiger, passant, ppr., collared and lined, or, fore dexter resting on a caltrap, gold. Motto: "Rien Sans Dieu" in Latin meaning "Nothing without God"
5. Peerage and Baronetage, Burke,
Sir Edward Kerrison of Oakley and Brome, Suffolk
Crest - Upon a mount, vert, a tiger, passant, ppr., collared and lined, or, the dexter fore-paw resting upon a galtrap, Motto: Rien Sans Dieu.
6. Burke's Landed Gentry
Roger Fulke Kerrison of Burgh Hall
Crest - A bundle of sugar canes, ppr., there on a dove arg., wings or, in the beak of a love branch also ppr. Motto: Fide Sed Cui Vide.
7. Burke's Landed Gentry
Lt.Col. Edmund Roger Allday Kerrison
Crest - same as Roger Fulke Kerrison above
8. Burke's Dormant and Extinct Peerages
Roger de Kerdeston Arms - Gu., a saltier, engrailed, arg.
9. Peerage and Baronetage, Burke
Sir Edward Kerrison of Oakley and Brome, Suffolk
Arms - Or, a pile, Az., Charged with three Galtraps, of the field
10. Burke's Landed Gentry
Roger Fulke Kerrison of Burgh Hall
Arms - Quarterly Gu. and Sa., A lion Rampant between three Annulets or; quartering Davis.
11. Burke's Landed Gentry
LtCol. Edmund Roger Allday Kerrison
Arms - same as above.
12. Some Feudal Coats of Arms and Pedigrees, Foster
1. Sir William de Kerdeston, knighted at the capitulation of Calais 1348 Arms - gules, a Saltier, Engrailed, Argent. Parlv. Roll - ascribed also to John, Fouke, and William in Arden and Norfolk rolls and Jenyns Ordinary. Sir Roger differenced with a label (3) or; Parly. and Ashmole Rolls.
2. John Kerdeston bore at the second Dunstable tournament 1334, - Gules a Saltire Argent a Label Besantee
History Kerdiston, Norfolk and Claxton Castle
Reepham's Three Churches, by M.J. Sayer 2nd Edition 1977
page 17 Rectors of Reepham and Kerdiston
1318 - 1319 William de Kerdeston
Part II - Secular History
Reepham and Kerdiston
There were two lordships of Kerdiston at the time of Doomesday Book.
(Mr. Sayer goes on as he mentions the two Lords, William de Warenne, and Ralf, Lord Baynard .... He further begins to mention how by 1302, the land and property was then divided into five, and how William de Kerdeston acquired such property at Kerdiston. He goes on .....)
The de Kerdeston family, taking their name from Kerdiston, were the most prominent family of these. It is presumably the site of their manor that lies near Old hall Farm and nearby are the remains of the original church. william de Kerdeston was with Edward I in the Welsh war of 1282 and Sheriff 1296-7. His son Roger, sheriff 1330-1, was summoned to Parliament as a Baron 1332-7. Roger's son William, the second Baron, had a license to fortify his principal residence at Claxton in 1339, fought at Crecy in 1346 and in 1359 was one of the Council of the King's Son Thomas of Woodstock, who was left in charge of the kingdom in his father's absence. William died in 1361 and it is his tomb in the chancel of St. Mary's church at Reepham, I think, not only because the armour fits the period, but because his father and grandfather, according to Blomefield, were both buried at Langley Abbey. His son William, by his second wife, was born out of wedlock, and although he obtained possession of Kerdiston and Claxton, was never summoned to Parliament. He and his wife Cecily, daughter of John Brewes of Stinton, are commemorated by the brass in the chancel of St. Mary's.

Their grandson Sir Thomas, son of Sir leonard de Kerdeston, left an only daughter Elizabeth, who married sir Terry Robsart, but before Sir Thomas's death in 1446 Kerdiston Manor was settled on William de la Pole, Marquis (later Duke) of Suffolk and Alice his wife, who was granddaughter of Maud, a daughter of William, second Lord Kerdeston, by his first wife, and properly speaking his co-heir. On her mother's side, Alice was grand-daughter of the poet Chaucer.
The turbulent history of the de la Poles belong to national history, and they suffered several attainders. In 22 Henry VII, the King granted this manor to Sir John Peche, but it was later restored to the de la Poles, who finally lost their estates in 5 Henry VIII. Their Kerdiston Manors also extended into Themelthorpe, and part became the present manor of Themelthorpe while that part that lay in Kerdiston, was granted to Sir James Boleyne of Blicking by Henry VIII. Sir James Boleyn granted the manors of Kerdiston and Reepham to Edward Lomner and Sir Thomas Paine, but this may have been a lease only. Sir James held Cawston as a result of the same grant, with remainder to Elizabeth, daughter of Henry VIII and Ann Boleyn.
If this remainder also affected Kerdiston, it would explain how Elizabeth, when Queen, granted the site of the manor house to Ambrose Willoughby.
(I must conclude here because the author goes on and in into more detail as he explains how the manors came into the hands of so many others over the years that followed. One thing I would like everyone to notice is the History of Kerdiston when it mentions the connection of so many famous people like, Sir Thomas Paine, Ann Boleyn, poet Chaucer .... )
Norfolk, by W.A. Dutt
Reepham, a small town on a little tributary of the Wensum, formerly had three Parish churches in one church yard, but the church of the parish of Hackford has been pulled down. Reepham church decorated, 1245-1360, has a find tomb with crossed-legged effigy of Sir Roger de Kerdeston 1337; it is arcaded and has figures of eight mourners on the front of it, interesting on account of their costumes. the recumbent position of the knight should be compared with that of Sir Oliver de Ingham in Ingham church. Note also (1) in the chancel, a brass to sir William de Kerdiston 1391 and his wife; (2) some other brasses; (3) an early English 1190-1245, fout. The other church here is that of Whitwell, and is chiefly perpendicular, 1360-1485, but with decorated tower.
Norfolk and Isle of Ely, by Harland
---
Reepham and Salle - Walks - The AA
There is a reason why Reepham ended up with three churches in one yard, although it's not obvious. Reepham was originally more than one parish and in William I's Domesday Book it was closely associated with the settlements at Kerdiston, Whitwell and Hackford. All Saints' belonged to Hackford, St Michael's to Whitwell, and St Mary's to Reepham and Kerdiston. This curious set-up seems to have worked remarkably well.
In 1543, Hackford's church became ruinous, probably after a fire, and the parishioners moved to share with Whitwell. Eventually, the parishes lost their separate identities and merged into Reepham.
Cambridge gild records - Google Books
1349 - Matilda Outlaw of Cambridge, widow, grants to the alderman and Gild of St.Mary a messuage in St. Edward's parish. (No witnesses named.)
The surviving one of the three Reepham churches is tucked away behind the prominent, prettier Whitwell St Michael, to which it is now joined by a corridor. The parish boundary ran along the west wall, and so the tower is tucked neatly against the south side, in the manner of many of the churches of south-east Suffolk - although there, it usually forms the entrance, while here there is a rather awkward porch sandwiched to the west of the tower and to the east of the chancel of St Michael.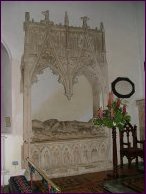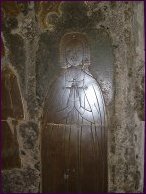 St. Mary's church near Reepham (decorated 1245-1360) is noted for the curious tomb of Sir Roger de Kerdiston died 1337, whose armored effigy lies on a bed composed. For some mysterious reason of pebbles. Some authorities suggest that, as an owner of seaside property, he is "Grasping the foreshore." Others deduce that he was shipwrecked. In the arcaded sides of Sir Roger's tomb are standing figures of mourning children and relatives. Also in the chancel is a brass of William de Kerdeston and his wife 1391.
---
Claxton Castle was castellated in 1333 by William de Kerdiston - Norfolk and Isle of Ely, by Harland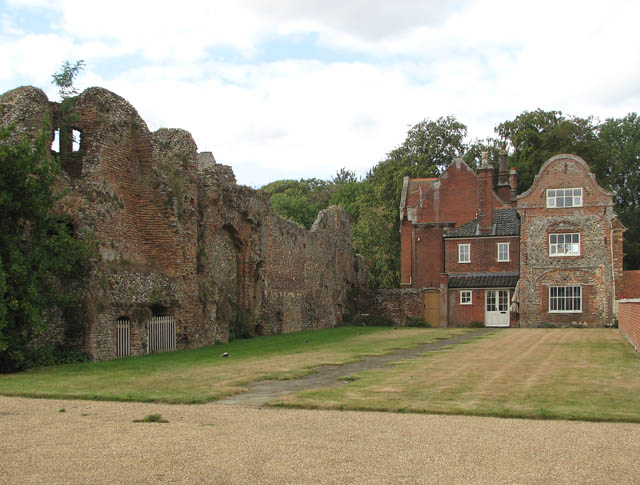 Claxton - Here are some remains of a castellated house built by Walter de Kerdiston in the 14th century and mentioned in the Paston Letters. The church has a decorated, Nave, Keep, Tower and rebuilt chancel. Note the filled in arches of a former north aisle and a font with shields of the arms of the Kerdistons.
Claxton, the lost Castle by J. Wentworth Day
This was an article that appeared in an East Anglian Magazine Sept 1960. I will quote from some of the article and then I'd like to tell you about my own visit to the Kerdeston Castle in 1983.
"So let us consider this forgotten castle." (Day now begins to mention a book written by the late Walter Rye, "The Norfolk Antiquarian Miscellany" 1906). There he tells us that the de Kerdestons who built the castle, or rather had license to castelate their manor house in 1339, which probably amounts to the same thing, sprang from William de Kerdeston who had a grant of lands in Bircham Newton from Hubert de Rye in 1200.
Therefore, de Kerdestons were Sheriff of Norfolk, Governor of Norwich Castle, supporters of Edward III against the Scots. One fought at Crecy and in 1354 signed the baron's letter against the pope. In 1359 he was appointed one of the council of the King's son Thomas, who was left in charge of the kingdom during the Kings' absence in France. A later de Kerdeston, Sir Thomas who died in 1446, left a daughter and heir who married Sir Terry Robsart, of the Walpole family, Earls of Orford. So much for a forgotten family. Now for their forgotten castle. Walter Rudd was of the opinion that it was probably amongst the most important examples of Norfolk medieval domestic fortresses."
".... (Day continues to describe in detail the castle as it appears today, but I am continuing on and only quoting what I think is most important at this time) ... When Sir Thomas de Kerdeston died in 1446, it was decide (Escheat Rolls, 29 Henry VI) that he died not possessed of Claxton and other manors, and that William de la Pole, Marquis of Suffolk and Alice, his wife, were the heirs, so that Elizabeth, the daughter and heiress of Sir Thomas, who married sir Terry Robsart, lost her inheritance...."
"... It is referred to several times in the Paston Letters and there is a tradition that Anne of Cleves, the despised wife of Henry VIII, not only owned Claxton Castle but lived there for a time...."
(Again my fellow Kerrison ancestors, imagine Anne of Cleves had once lived in the Kerdeston Castle.)
"Best of all those who have lived or dined within the walls of Claxton I like to think of the builder, William de Kerdeston. He was a man of parts. A good soldier, the wise counselor of his King, rich, busy, and fair in his dealings. In 1340 he joined the expedition into Flanders, taking 10 men at arms and 10 archers from Claxton. The following year he sent 10 men at arms to fight the Scots.
Four years later he was fighting in France, and was one of those who saw the final defeat of the flower of French chivalry at 'the crowning mercy of Crecy'. That seems to have been his last battle. He was almost certainly a friend of Chaucer, for later his granddaughter married Thomas, the son of the poet.
His 'good friend' in Norwich was Bishop Bateman, who submitted the draft of the agreement between England and France to Pope Innocent I at Avignon. Part of the Norwich city walls which still stand are in a sense a memorial to William de Kerdeston for in 1344 he witnessed the gift which gave the citizens the ground on which the city walls were built, from Baar Gate to the Wensum, much of which still stand.
Today, although 'their name forgot, their hold a ruin' the ghost of William de Kerdeston, bold, busy and wise, would not, I think be disappointed by the beeves and bloodstock, the dairy herds, and the rich ploughland which make the lands of his manor a picture of good farming in an ancient frame."
I also have a copy of the following
"The Norfolk Antiquarian Miscellany", by W. R. Rudd
Which contains a chapter "Claxton Castle"
There is so much written in this chapter about the Claxton Castle, there just isn't the space or time for me to type the entire chapter. What I would like to do is quote what I feel the will emphasize how impressive our Kerdiston Heritage is.
page 89
"We learned by the genealogical appendix compiled by the editor, that William de Kerdeston had license to castellate his Manor Home at Claxton in 1333. Further, that through all the varied vicisitudes of civil wars and dynastic changes from some 250 years, from Sir Roger de Kerdeston of 1199 to the Sir Thomas de Kerdeston of 1450, this family held, each generation from father to son, "until God's finger touched him, and he slept, the manor of Claxton."
page 91
"William de Kerdeston the most notable member of a notable race, the builder of Claxton Castle. Throughout his career, he appears to have been a wealthy busy man, a valiant soldier, the trusted councilor of his King. .... Roger de Kerdeston ... rewarded for his services obtained a trant of a market and fair at Claxton, in those days a valuable, coveted privilege."
"The family of de Kerdeston" by Walter Rye
In both referred to above, there is so much information and history to be able to copy at this time. Maybe one day I will be able to type both so that they will be enjoyed by others who wish to know more about the Kerdestons and the Claxton Castle.
Kerrison Surname
1. Bardsley, C.W. "Dictionary of English and Welsh Surnames", 1901
Kerrison - local of Kerdeston, a parish in Norfolk County, near Reepham. There is no escape, so far as I can see, from this conclusion. Otherwise, one of the earliest and commonest of Norfolk names has left no descendents. On the other hand, where else has the great Norfolk name of Kerrison Sprung? It is not a baptismal surname. Finally Kerdiston would readily become Kerison, and then Kerrison. Personally I have not a doubt about this derivation; Kelson for Kelston.
Roger de Kerdeston, co. Norf. 1273
William de Kerdeston, co. Norf., 20 Hen. III: FF. x. 112
Leonard Kerdeston, co. Norf., 9 Ric. II: ibid. p.114
Thomas Kerdeston, co. Norf., 1446: ibid.
The histories of Norfolk teem with these entries. If the reader will repeat Kerdeston six times over to himself he will see how easily the corruption would arise.
Robert Karrison, of Milton Green, co. Chester, 1620: Wills at Chester, i, 212.
Hugh Kerrison of Dodleston, 1640: ibid. 11. 120.
2. "Surnames of the United Kingdom", London, 1912
Kerrison: a corrupted form of Kerdeston or Kerdiston (the Norfolk Placename) 13th cent. Kerdeston = Cered's or Ceolred's estate (O.E. tun, estate, manor: the pers. name is a compound of O.E. Ceol, a ship, or roed, power; Council).
3. McEwen, "History of Surnames of the British Isles"
Kerrison (ie. Kerdiston)
Mr. McEwen, page 80,240 and 294, explains how surnames were adopted by place names. The adoption of place names or local descriptions greatly increased from 1066 up to the first quarter of the 13th Century. Local descriptions were nothing more than an address as Mr. McEwen explains.
"Under the organization known as the feudal system, of which one of the fundamental principles was the holding of land by vassalage in return for services, usually military, it was the most natural order of things that the tenant should become known by the name of his fief, the foundation of his value to his suzerain, and measure of his importance in the world; and since a tenant of the Crown sat in Parliament in virtue of the barony held by him, that, when in the 13th Century, summons was made by writ, the name of such territory should be entered. Although local descriptions were used by all classes equally. The reposition "de", ie. (de Kerdiston) in the record are generally Latin and it equivalent in value to "of", "at", or "in". The introduction of such descriptions was not entirely due to Norman custom, but "aet", or Early English, "atte". If a surname can be traced back to a "de" "la" form, it is of local origin."
William de Kerdeston of Norfolk, means, William of Kerdeston.
4. Smith, Elsdon, "New Dictionary of American Family Names"
Kerrison, (Eng) One who came from Kerdiston, Norfolk England, (Cenred's Homestead)
5. Historical Research Center
The English surname Kerrison is local in origin, signifying simply "of or from Kerdiston", this being the name of a parish near Reepham in county Norfolk. The deletion of the "d" is a feature of many English names. The place name itself literally denotes "Kerde's enclosure", and the name, not surprisingly, is particularly associated with Norfolk, and was first recorded there as a surname as long ago as 1273 when the Norfolk shire Hundred Rolls cite one Roger de Kerdeston. One of the first instances of the modern variant occurs in 1620 when a Robert Karrison is listed in the Wills at Chester. The name continues to be most numerous in Norfolk, and nobel houses of the name have become established both there and in the neighboring county of Suffolk, and it is from the latter Kerrisons that one of the most notable bearers of the name, Sir Hugh Kerrison, is descended. It is the augmentation award from his services at the battle of Orthes in 1814 and the battle of Waterloo in 1815, when Wellington defeated the French, which is shown on the arms below.
Brazon of Arms: Or on a pile azure three galtraps of the field, on a chief embattled ermine a wreath of laurel encircling a sword erect proper, pommel and hilt gold, between on the dexter, pendent from a ribbon gules Edward Kerrison for his services at the battle of Orthes, beneath it the word "Orthes" in letters sable, and on the sinister, pendent from the little ribbon, a representation of the silver medal presented to him in commemoration of his services at the battle of Waterloo, beneath it the word, "Waterloo" in the letters sable.
Crest: (of augmentation) Out of a mural crown or a dexter arm embowed in armour, entwined by a branch of laurel, holding in the hand a flagstaff proper, therefrom flowing a banner forked gules frienged or inscribed "Peninsula" in letters gold.
Motto: Rien sans Dieu "Nothing without God"
Professor McKinley of Leicester University, who has written a book about Norfolk, was asked his opinion about Kerrison being derived from Kerdiston. "I am quite sure that all Kerrisons are from one source for I have done a lot of research on the great Norfolk families, and without a doubt they are all related." He also states that it will be nigh on impossible to establish the Kerrison and Kerdeston/Kerdiston, but he thinks they are the same family, but the de Kerdeston's are to obscure now to link them.
Roger Edmund Fulke Kerrison of Sloley Lodge, Norwich, Norfolk. He is the direct descendant of the notable Kerrison family of which Mr. Rye refers to in his book, "Norfolk Families". Mr Roger Kerrison writes, "I can trace my particular branch directly back to John Kerrison of Stratton, St. Mary, Norfolk, who died 1522. We like to think that Kerrison, sometimes spelled Kerson and Kerison, is a corruption of de Kerdiston, who was given land at Kerdiston, near Reepham, Norfolk. The de Kerdestons became extinct about 1490."
Here are some of the earliest descendents of Mr. Roger's family
John Kerrison of Statton, St. Mary, died 2 Dec 1522
Robert Kerrison of Pulham Magdaline, died 2 Sept 1559
Matthew Kerrison of Pulham Magdaline, married 1550
Peter Kerrison of Seething, born 1564
Boyd's Marriage Index
There are approx 100 Kerrison marriages mentioned in his marriage index from 1550 - 1836. The following are marriages from the 1500s and 1600s. Note: I have not mentioned who each married. I simply wanted to mention how Kerrison was spelled and in what year from his Index.
1628 Kerison, Frances, Mulbarton
1628 Kerison, John of Mulbarton
1638 Kerison, Robert of Mulbarton
1636 Kerison, Richard of Diss
1637 Kerison, Robert of Pulham
1605 Kerrison, John of Pulham
1550 Kerison, Matthew of Pulham
1605 Kerrison, Richard of Gt Yarmouth
1605 Kerrison, George of Gissing
1604 Kereson, Elizabeth of Ranworth
1612 Kerison, John of Old Buckenham
1563 Kerison, Margaret of Old Buckenham
1572 Kerison, Robert of Pulham
1589 Kerison, Joan of Carleton Rode.
As you begin to research the parish documents, you will find such a wide variety of misspellings. Here are just a few of some examples I found.
Kereson
Kerisson
Kerrisson
Kerrisonne
Kerisonn
Kerisonn
Kerustin
Karrison
Carrison
A Little History about Surnames
In England, the use and adoption of surnames did not come about until about the 12th century. Surnames were first used by those of noble ancestry, and or holders of estates. It was not until the 13th century that the common folk began to adopting surnames. Surnames of every type were basically derived from either;
1. place name (which is how our surname Kerdiston/Kerrison derived)
2. Occupational
3. Patronymics (son of)
4. Nicknames
In 1413 Henry V decreed that the surname of an individual be listed on every official paper, and this tended to start the legal process of standardizing family names, which was completed when parish registers were established in 1538. This is when each parish church began to record the births, deaths, and marriages.
In the days when surnames were acquiring the permanent nature which they now possess, all lists of names were written by hand, and many misreadings resulted. At first sight it may seem surprising that the form of surnames should have suffered any change because of misspelling or misreadings, but if it be remembered that a large portion of the people could neither read nor write, and those who possessed those accomplishments had no standard of spelling, it will be realized that few could dispute the entry on a register even if they had any inclination to do so. As Mr. Bradsley stated in his book, "If the reader will repeat Kerdiston six times over to himself he will se how easily the corruption would arise."
Surnames - because most people were illiterate the vicar or his clerk had to rely on the sound of the name and if the person mumbles there could be a wide variety of names, even going to the wrong first letter as in the case of Kerrison being oftentimes found as Carrison.
---
Researched By Gordon Kerrison Norfolk UK 2009
I have done quite a bit of research on the origin of Kerrison. I believe that the name started here in Norfolk. I further believe that its origin is from Norway and not Kerdeston. I cannot be positive at this point but I was in Norway some 5 years ago, and on my return, I noticed a wood carving on the bulkhead of the Brathen Airways aircraft. It was of a longship and a viking standing alongside. I asked about it and was told that all Brathen planes carry a carving of different Vikings etc etc. I was given a book on them to read ( +keep) and to be brief I located a Viking called Olaf Barfoot. he sailed from Iceland to the east coast of East Anglia ( Norfolk) he landed and it seems he settled. It continues to say he had his first son
KYRRE and a little further on in this saga it printed KYRRE-SONN. My research into my Norfolk origins found lots of different spellings of the now standard spelling that we know today. I wrote to Norway & Iceland and Ice land said that Kyrresonn is unknown in both countries and that surnames are only a 100 years (or so, but not 14th century like ours) but he added that this Kyrresonn could have easily commence the Kerrison name. Of course he never saw the derivations I have seen and until firm proof otherwise this is the closest I have found. I found no evidence of a relationship to Kerdeston ( a Norman Name) I intend having my DNA checked by a specialist in due course but he did warn that Norwegian & German are closely linked.

For definite I can tell you that as I went back in time the Kerrisons multiplied here in Norfolk, and we have a very strong Scandinavian influence via village names etc in this area.
---
Reepham, Norfolk - Wikipedia, the free encyclopedia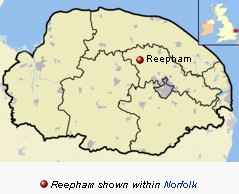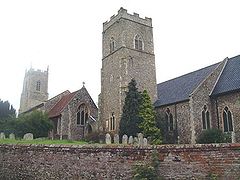 Reepham is a small market town in the English, county of Norfolk, England. Situated on the B1145 road between the Bure and Wensum valleys. The town is 12 miles (19 km) north west of Norwich.[1] As of the 2001 census the civil parish had a population of 2,455 residents in 970 housholds and covers an area of 1,909 hectares (4,720 acres).[2]