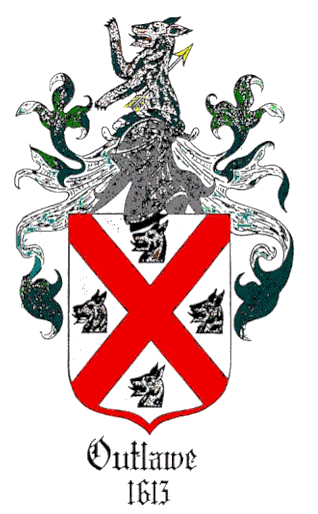 King Edwy - King Edgar - Outlawe - Dunstan
Harold II - An outlaw bears a wolf's head
Outlawe Timeline - Isle of Ely - History
The Wolf was a respected animal to the Anglo-Saxons,
it symbolizes loyalty, power and freedom
---
Útlagi placed this stone in memory of Sveinn -Rune sm103 - Småland, Sweden
Utlage raised this stone in memory of Eyvindr, a very good thegn - Rune vg62, Ballstorp, Västergötland, Sweden
---
Wuffing - King St. Edmund - Patron Saint of England - The last of the Wuffings, St Edmund.
"Wuffings" - Wolf people 'the kin' (children or descendants) of the wolf' .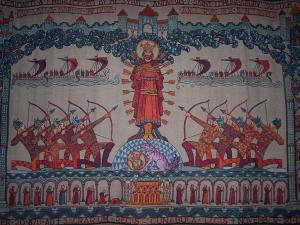 He was tied to a tree, tortured by being shot through with arrows, and then beheaded. 20 November 869 at Hoxne in High Suffolk and his body was buried in a small wooden chapel nearby.
---
From "A visitation of the seats and arms of the noblemen and gentleman of Great Britain by Bernard Burke" it says ;
"The Outlaws derive their descent from a family who were banished to Ireland by King Edwy, for political offences "
[See: Was the Outlawe's banishment associated with Saint Dunstan? (patron Saint of Goldsmiths)] or Earl Harold?
Ireland was at that time overrun by wolves, and they redeemed the liberty of returning the next year, when King Edgar reigned, by sending in so many wolves' heads to the government.
They were also able to prove their innocence of the crime imputed to them ; and, ever since, their arms have been, argent, a saltier gules, between four wolves' heads, couped, proper; but so indignant were they at their unjust condemnation that they determined to retain the name of Outlawe, in order, as they said, to cast obloquy on the unjust monarch who banished them.
---
Symbolic Meaning of the Outlaw Arms and Crest
ARMS Argent a saltire gules between four wolves' heads couped proper.
CREST A demi-wolf proper wounded in the shoulder by an arrow or head and feathers argent embrued gules. (British Museum-Stowe).
Ancient Translations:
ARMS Silver: a red saltire between four wolve's heads severed and in natural color.
CREST One half a wolf couped proper pierced through the side with a gold arrow, feathered and headed in silver. the arrow lying bent to the right.
Arms: On a saltire, between four wolves' heads couped, a crescent (Outlaw of Little Witchingham, co. Norfolk, granted 1613, Argent, a saltire gules between four wolves' heads, couped proper.)
Crest: A demi-wolf, pierced through the side with an arrow, feathered and headed, the arrow lying sinister bend ways (Outlaw, A demi-wolf proper, pierced through the side with an arrow or, feathered and headed argent, the arrow lying sinister bendways.)
College of Arms is the official repository of the coats of arms and pedigrees of English, Welsh, Northern Irish and Commonwealth families and their descendants.
---
700~1000AD - Útlagi placed this stone in memory of Sveinn -Rune sm103 - Småland, Sweden
990~1010AD - Utlage raised this stone in memory of Öjvind, a very good thegn - Rune vg62 - Ballstorp, Västergötland, Sweden
All the places in Hichin which were not in Harold's hands in 1066 were held BY HIS 'MEN'
1023 - Gilbert Egghlan de Utlag et Bargaria - Keighley West Riding Yorkshire
1070 - Utlamhe with Hereward the Wake
1150~1169 - Charter of Bartholomew de Glanville To Bromholme Priory - Walteri Utlage - Bromholm Priory

1171 - The people of Bristol were given Dublin as a colony by the king and many Bristolians settled there
1172 - Torsten utlag - Reginaldus utlag - Dublin Roll of Names

1175 - Treaty of Windsor - Henry II became the High King of Ireland. This Treaty resulted in large scale emigration from England to Ireland
1180~1202 - Margam Abbey - John, son of Ralph Utlage, the meadow of Leowine, Lewin's-mead, St. James' - Bristol
1180-1199 - Torsten Utlag - Burgess - Dublin Ireland
Early Outlawe's in Kent Hagenild Mother of the Outlaw's
1198 - Philip , Henry , Richard , William , Jordan, sons of Vtlag' - Kent Pipe Rolls - John  1198
1199 - IBER FEODORUM - Alan Utlage, Quarter fee in Hindringham and Homeresfeld - Norfolk - Robert Utlag
1200~1212 - De Helia Vtlagh (of Elham) - Rents due about Mildelton - (Milton Kent) (Elham Canterbury, Kent)
1200~1212 - Haghenild Vtlaghe - lands of Newton and Newington - Heirs: Hildith , Simon, Adam, Henry and Roger son of Thomas - ( Canterbury, Kent )
1200-1250 - Deed of grant, Lynn - 1d annual rent from a certain [piece of land] 4 feet wide in Damgate held by Peter Strac - Grant by Laurence Outlaw (utlator) of Len [Lynn] to the Hospital of the Blessed Mary Magdalen of Len and to the infirm brothers there for the souls of his parents and his benefactors, the 1d to come from his purse during his lifetime

1207 - Hubert de Burgh purchased of Roger de Burnham and Julian, his wife, William de Noiers, Robert Fitz Ralph, and Alice his wife, and Robert de Utlagh, their several nine parts of two knights fees in Runton and Beeston and Hinderingham, for which they paid castle gaurd to Dover. 9th of King John * The Norfolk antiquarian miscellany - West Runton - Beeston Regis - Hindringham - "Hindringham Outlagh Manor"
1207 - Alan the son of Robert de Vtlage,
1210 - Roger Utlag - Witness - Steeple Bumpstead Essex - Sir Robert de Vere - Gilbert de Baillol - William de Watevill - Knights of St John
1218 - Alan le Ultage -. Winchester. Suffolk
1225 - Warin le Utlage- land in Swanton and Hoe- Norfolk
1228 - Warin le Utlagh v. Thomas de Hereford, in Swanetun.
1230 - Alan le Utlage - county of Essex
1230 - Peter le Utlage - ship license - Dieppe Normandy
1240 - Warin le Utlag in Qeywode. (Bishop of Norwich)
1250 - Willelmum le Utlag - Close Rolls, Henry III
1260 - Richard le Utlawe - Grant of Rent William de Wateville to John de Vallibus land in Hempstead, Essex
1270 - Hugo le Utlagh - Close Rolls, Henry III
1273 - Richard Utlawe, County Bedford, Hundred Rolls.
1282 - The death of John Utlagh, Lancaster

1285 - Charter of Ida daughter of the late Richard Utlaw - five acres of land and half an acre of meadow, with appurtenances. - Roger [ son of Richard ] Outlaw ( of Bumpstead Helion ), Ida daughter of Richard ( Hospitallers Cart. Maplestead Essex)
1288 - Thomas Utlagh - Close Rolls, Edward I
1296 - Willmo le Utlagh - Sussex : Arundel
1313 - Willielmus Outlagh - Bristollia Bristol
1314 - John Outlawe v. Henry le Pescour of Cantebrigg' & Joan his wife in Gransete - Cambridge- 7 Edw II. 79
1317 - Simon de Everesdon and Margaret his wife v. John le Utlawe junior and Alice his wife in Brunne - Cambridge * 10 Edw II 83 ( Brunne Cambridge (Bourne, Lincoln) )
1326 - Suffolk manor of Lakenheath - Matthew Outlawe - Matthew Outlawe of Lakenheath
---
Outlawe Family History in Ireland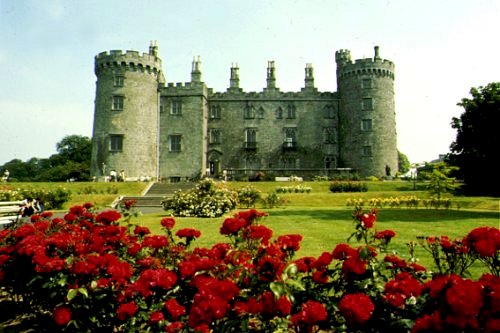 Kilkenny Castle
1180-1199 - Torsten Utlag - Burgess - Dublin Ireland
1279 - Rochester - Protection for David de Pembrok, and Cecilia la Utlaghe (from Ireland)
1298 - Dame Alice Kyteler marries William Outlawe brother of Sir Roger Outlawe, Chancellor of all Ireland
Her family came to Ireland after the Norman conquest of 1169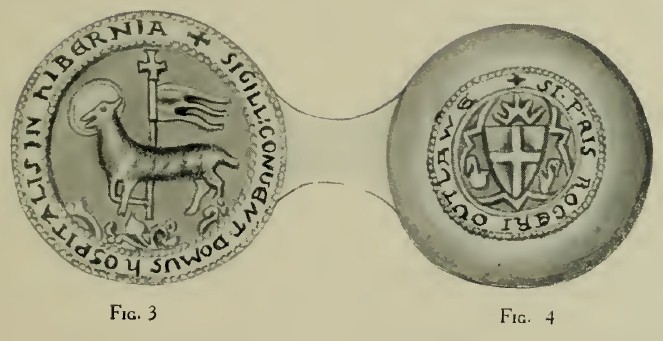 Roger Outlawe Seal - 1318 - pg197
The Knights Hospitaller - Knight-brothers of the order had to be a knight or son of a knight and born legitimately of a noble family
1311-1340 - Sir Roger Outlawe - The Grand Prior - Hospital Of Saint John Of Jerusalem In Ireland - Priory of Kilmainham - Lord Justice of Ireland
1324 - Dame Alice Kyteler was charged with heretical sorcery escapes to England with help from Brother-in-law Sir Roger Outlawe
1324 - William Outlawe nephew of Sir Roger Outlaw is ordered to make pilgrimage to the Shrine of St. Thomas at Canterbury
1324 - Summons to the war in Aquitane - William Utlawe of Kilkenny - War of Saint-Sardos

1326 - William fitz Maurice marries Margaret Outlawe daughter of William Outlawe, the banker of Kilkenny - Williaim fitz Maurice, son of Maurice fitz Maurice, succeeds his father, services due to Richard de Clare, Earl of Gloucester and Hertford in the county Kilkenny, - later known as the " Maurice Fitgerald 's "

1330 - Exemption for life, of William Utlawe from being put on assisce, juries or recognisances, and from appointment as mayor, sheriff, coroner or other minister of the king against his will. March 10 1330

1362 - Roger son of William Outlawe , Given at Fynel
---
Templar house: The Preceptory of Denny in Cambridgshire, ... was a hospital for sick and superannuated brothers. The original priory, belonging to the monks of nearby Ely, passed to the Templar hands in 1170 ... the fraternity at Denny was arrested in 1308, Both St. John's Hospital and Barnwell Priory were built on common land

1347 - Grant to Henry de Tangmere and John de Bernewell, burgesses, of a messuage as in 58, 60, and 61.

1348 - Black Death - Cambridge Guild Records

1377 - PRIESTS. John son of William Utlawe, Oct. - Prebendal Church of Colewych - Colwich, Staffordshire

1392 - John de Bernewelle, or John Outlawe, elected March 1392, died Nov. 1408 - John de Bernewelle, (fn. 213) whose personal name was Outlawe; (fn. 214) possibly a canon of West Dereham, and one of the three brothers of that name See: Isle of Ely - Priory of Barnwell

1392 - Ship of John Owtelawe, called James of Lynn, departing the last day of February - customs levied thereon at Lynn
1392 - Simon Outelawe - 18 shops in Bristol
1393 - Sweyn (Swenoni) Stalefote, envoy and commissioner of the queen of Norway, to hire three large vessels of war in the port of Lenn, ... one of which Adam Outlawe is master, Westminster - 16 Richard II

1396 - Adam Outlawe ship called Holigost de Lynne going out there on May - May 1396

1399 - Richard Outlawe, 58, on that day went with master Ivo la Zouch, chancellor of Cambridge University, to the church - See : Richard Outlawe 1399 Cambridge
---
1403 - Simon Outlawe at Baas Manor - Hertfordshire.- Westminster. (near Hichin and Hertford Castle)
1454 - Protection to John Owtelawe in the retinue of John earl of Worcester - Oct 23 - 33 Henry VI
1456 - Kings Lynn - John Outlawe, the son of Richard Outlawe, upon whom was conferred the freedom of our burgh - The Keys to the City!!!
1463 - accompanied Sir John Howard to Wales - Rechard Owtlawe mayster of the Mary Talbott of Lynne - John Owtlawe - Crew.
1468 - Robert Deryng of Lynne, maistre of the ship called the Marye of Lynne, wherof is owners Richard Outelawe and Aleyne Thomsone, satth, he sailed from Lynne towardes Pruce in Dantzike - DRÁP BJÖRNS. - VERZLUN
Outlawe - Hanseatic League History
---
1501 - Sir ADAM OUTLAWE, of West Lenn (Lynn), St. Peters, priest, died 1501
1504 - Thomas Outlawe - Wardeyn - The Pewterers' Company (London)
1533-44 - Adam Owtlawe mariner working for Sir Francis Bryan - Great Shallop of Dover (Adam Owtlawe, c) - Cavendishe Shallopp (Adam Owtlawe, c.) November 28 The Newe Barke 160 t., 120 m., Adam Owtlawe
1548 - Thomas Outlawe - King Edward VI. issued a proclamation, A. D. Oct. 1548 - accused of piracy - 300 crown reward - In 1549 - Lord Admiral Thomas Seymour, was beheaded for reasons of state, and amongst the articles of accusation were several charging him with dealings with pirates
1551 - Thomas Owtlawe - Rector - Claxbe Pluckacre - Lincoln - now deserted (hiding out?)
1563 - Thomas Owtlaw of Somerset County - The Visitations of Norfolk, 1563 and 1613 (Wichingham)

1593 - To Richard Owtlaw, pursyvaunt, for arestinge Mr. Robert Ramsden - Arch deacon of York

1595 - Queen Elizabeth's Counsel at York -
Richard Outlawe the pursuivant attending -
William Outlaw, the pursuivant's son (Pursuivant - Queen's Messenger)
1601 - WILLIAM OUTLAWE matriculated Emmanuel College - Emmanuel College, Cambridge - a college of training for Protestant preachers to rival the successful Catholic theological schools
1602 - Smyth, John, of Bridge, and Mary Outlawe (widow), Nov. 27 -Canterbury marriage licences
1603/4-1609 - Henry Outlawe Gentleman - London - Blackfriars Playhouse
1609 - William Vynor & Mary Outlawe - Dec 19 - Marriages at St. James - Clerkenwell
1610 - Ralph Outlaw admitted to Gray's Inn - London
1614 - Leonard Rountree superiority of the Protestant over the Romish faith, conversations upon them with William Outlaw, Mr. Burton, and Mr. Harwood.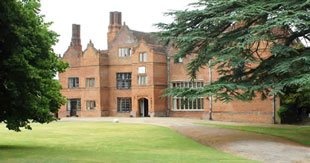 Spain's Hall - Essex
1615 - Elizabeth Kempe marries Ralph Outlaw son Robert born 1626

1617 - Sched excom: Thos OUTLAWE Bridge Kent; non-appearance - 6 May - Canterbury Cathedral
1617 - Hornsey, Richard, of Bishopsbourne, miller, and Mary Outlawe of Bridge, St. Margaret's, Cant. Isaac Outlawe of Bridge, husb., bonds. Canterbury Marriage licences - Nov. 9

1624 - Married Thomas Wright, of Ripon, and Jane Outlawe, widow, of St. Michacl-le-Belfrey, York
1637 - Ralph Outlawe of Witchingham, matriculated Pembroke College, 1637; B. A. 1642; M. A. 1645 - Pembroke College, Cambridge
1639 - Admission Lincoln's Inn - Thomas Outlawe, son and heir app. of Ralph Outlawe, Witchingham Parva, Norfolk - Lincoln's Inn

1644 - Robert Kempe Knighted by Oliver Cromwell at Spain's Hall 7th Aug 1644 (brother of Elizabeth Kempe)

1658 - John Outlawe of Lymehouse Shipwright and Elizabeth Baker of Radcliffe, W. (marriage)
1661-1684 - Ralph Outlaw, Rector/Vicar of Necton All Saints - Necton All Saints History - Necton All Saints Norfolk Churches - Bintry - Ralph Outlaw
1674 - Thomas Outlaw - County Norfolk - Admitted Corpus Christi College - Cambridge
---
In 1620 we find the eldest branch of the family seated at Little Witchingham, in Norfolk, but in 1670 that branch became extinct [in England], and a cousin, Henry Outlaw, Attorney-at-law, of Haddenham, in Cambridgeshire, then became the representative. He married a lady of good fortune, Miss Hare of Beckenham, in Kent, whose fortune was invested in the South Sea speculation ; after her husbands death, when she was quite advanced in years, she was taking a nap after dinner, according to her usual custom, when a neighbour, half frantic, rushed in, and throwing up his arms in an excited manner, exclaimed "Oh! Mrs Outlaw, we are all ruined! the South Sea speculation is all a bubble! we have lost everything!" she was so alarmed that she had a paralytic stroke, and died.
Her only son Thomas, married Sarah Underwood, co-heiress of Thomas Underwood Esq., and their eldest son, Rev. Robert Outlaw, was Rector of Longford, in the county of Salop". So this gives us the name of Thomas' parents.
Rev. Robert Outlaw's Son in EIC India:
1819 - Outlaw, Robert - Cavalry . . 1798 - Lieutenant : Aug. 18,1801 - Captain: May 20, 1813 - Died Oct. 25, 1819, at Fort St. George Madras India And his son :
1843 - The Battle of Miani (Meanee) - Lieutenant T. F. V. Outlaw, 26th Madras Native Infantry, commanding the company of Madras Sappers and Miners - 17 February 1843

---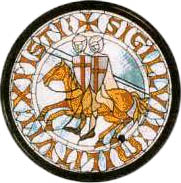 The Order of the Hospital of St. John of Jerusalem, and its Grand priory of England
In 1540 Henry VIII dissolves Hospitaller's , The greater number of the Knights retired to Malta, and of those who remained several were executed, being charged with having denied the King's supremacy. Of these, Sir Adrian Fortescue, Sir Thomas Dingley and Sir Marmaduke Bowes, were beheaded on Tower Hill, and Sir David Gunston was hanged, drawn and quartered at St. Thomas Waterings, in Southwark.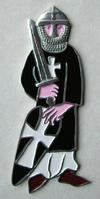 Shield of the Knights Hospitaller of St. John of Jerusalem, 12th Century
As already mentioned, the Knights Hospitaller were actually formed before the Templars (circa 1070); however they did not become a military order until some time later. ... The first military brethren employed by the Hospitallers may have just attached themselves to the Hospitallers, rather than being full members of the Order; because initially the Hospitallers saw their primary duty as being the care of pilgrims, rather than fighting the Saracens. However, it was soon realized that the care of pilgrims included making sure that they reached their destinations safely, as well as the protection of the Order's hospitals. By the 1130s the Hospitallers were being given castles to re-build and garrison; and by the 1160s the Order was accepting full-time military brethren. These men carried black shields emblazoned with a white cross.
---
The Order of Saint Thomas - The Knights of Saint Thomas was established in 1191, at Acre - Membership was restricted to Englishmen.
...The purpose of the Order was tending to the sick and wounded, and burying the Christian knights who fell in battle in the Holy Land...about the year 1279, as the purposes of the Order shifted from that of religious hospitallers to a more military role...At the fall of Acre, 12 May 1291, the Master and nine knights of the Order were killed...London premises being reported as being in ruins by 1330.

Shield of the Knights Hospitaller of St. Thomas of Canterbury in Acre.

The Knights of St. Thomas was an English order which was formed during the Third Crusade. It was never a large order, and it eventually disappeared in the mid-fourteenth century. However, it is known that a contingent fought in the defense of Acre in 1291; and they may even have taken part in the notable sortie on the night of the 15th April. The Crusaders sallied forth against the Saracen besiegers, and initially took them by surprise. Unfortunately, they pressed their advantage too far, and some of the Crusaders' horses tripped over the Saracens' tent ropes in the darkness. This allowed the Saracens to rally, and the Crusaders were repulsed with heavy losses.
---
The Gaspe Valpys - NOTE: Old Jersey surnames beginning with a "U" appear to be mostly British, such as Underwood, Upton, Urquhart, Usher, Udall, Utley, Unwin, and Upson.
One very old J surname, L'Utlagh, the Outlaw, appeared in Grt. Britain in the English form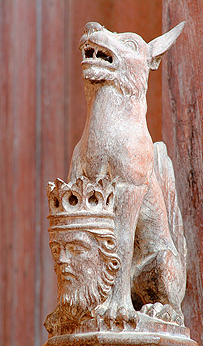 Wolf as Protector of Kings
Norse myths were told in the Poetic Eddas, but they were not written down until the 13th century

One who wishes to take another's life must get up early like the wolf.
Wulf is on one island I on another. That island, surrounded by fens, is secure.

1050 - Helgi Hundingsbane - can safely be dated, on the basis of other evidence, after the year 1000 - composed probably not earlier than the second quarter of the eleventh century - The Ylfings' son -
His eyes flash sharp | as the heroes' are,
He is friend of the wolves; | full glad are we."

---
Cambridge Guild Records - So many people were dying of the Plague that they had no one to leave their money and property to, and the living inherited a great deal, so they formed (and left their goods to) the Cambridge Guilds, and with those funds, created some of the greatest colleges in the world. The Outlaw's were no exception.
---
990~1010AD - "Utlage raised this stone in memory of Eyvindr, a very good thegn" Ballstorp, Edsvära, Västergötland, Sweden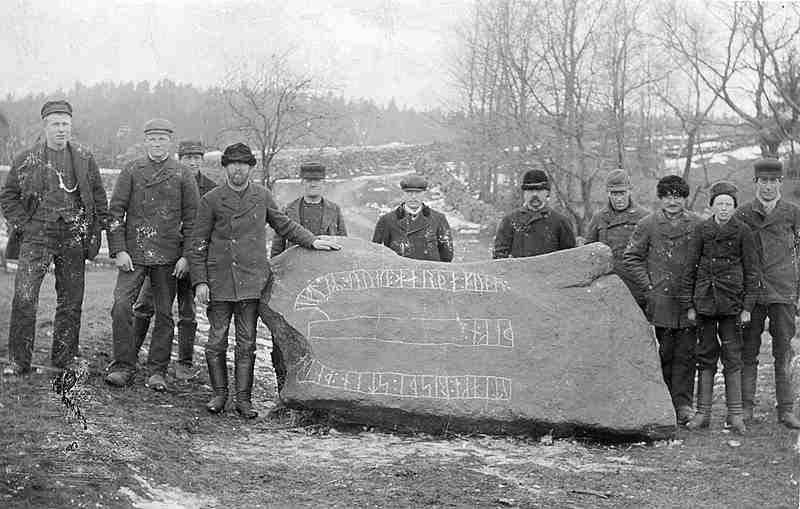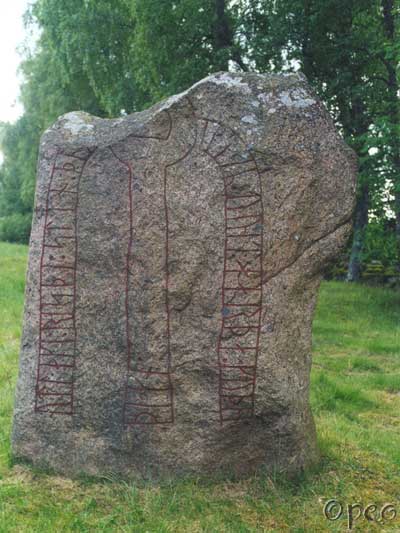 ---
Mary Magdalene - In Hebrew, "pillar" is a "M'GD'L" or "magdal." So the name "Mary, the Magadalene" means "Mary the Pillar (of her tribe)." She was the chief heir of the tribe of Benjamin.
The Twelfth Tribe of Israel - the Tribe of Benjamin had been singled out for a very special and exalted blessing, when in Deuteronomy 33:12, Moses pronounced blessings on the patriarchs of each of the twelve tribes. Of Benjamin, Moses said, "The beloved of the Lord shall dwell in safety by him; and the Lord shall cover him all the day long, and he shall dwell between his shoulders."

This symbolism later became a red cross between the shoulders. This symbolism has carried down to modern times.
This 'red cross' has even been claimed as the origin of the Knights Templar
---
The English of the upper and middle classes hastened to bestow upon their children the Christian names of their conquerors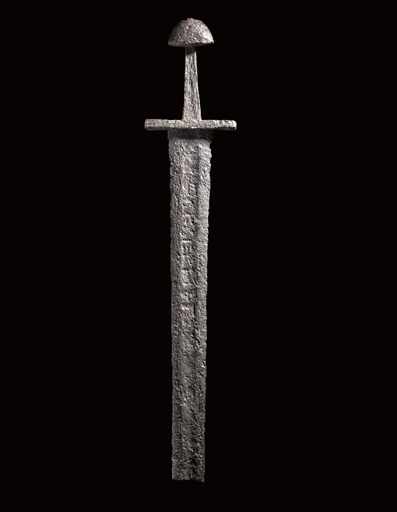 UlfBerht - Bright Wolf - Circa 950
The history and antiquities of the round church at Little Maplestead Formerly belonging to The KNIGHTS HOSPITALLERS (Essex) - The charter of Ida daughter of the late Richard Utlaw - five acres of land and half an acre of meadow, with appurtenances.
1349 - Registrum de Kilmainham: Chapter Acts in Latin of the Knights Hospitallers of St. John of Jerusalem at their chief house of Kilmainham, near Dublin, under the Grand Prior Roger Outlawe, 1321-39 - Bodleian Library - Balliol College, Oxford
Cross-legged Knights indicate that the person so represented died in the Christian faith. As crusaders were supposed so to do, they were generally represented on their tombs with crossed legs.
"Sometimes the figure on the tomb of a knight has his legs crossed at the ankles, this meant that the knight went one crusade. If the legs are crossed at the knees, he went twice; if at the thighs he went three times."—Ditchfield: Our Villeges, 1889.

Outlaw Genealogy Page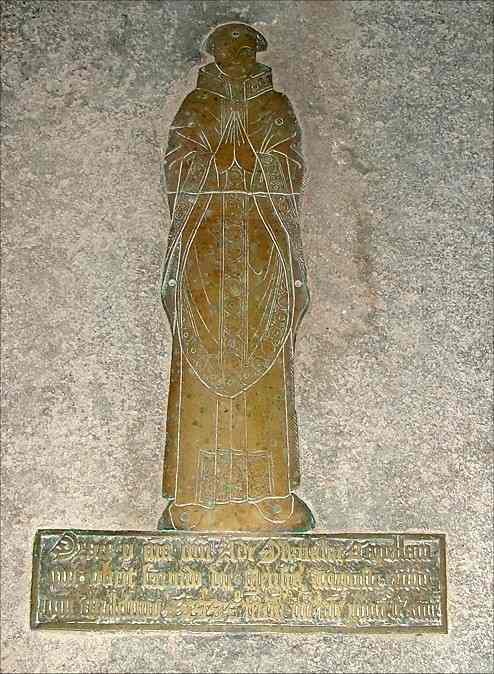 I am an Outlaw. Our family story is that we relate to pre-conquest Anglo-Saxons as shown on the left panel.
We are possibly Wuffings from Angeln Denmark/Sweden and descended from the men of King Edgar and St. Dunstan. It appears that a few Utlagh's retained some of their lands after the conquest around Norfolk at the Isle of Ely. Very much an Ivanhoe story. We are possibly related to the Hospitaller Knight of St. John, Sir Roger Outlawe in Ireland.
Now it seems that a first name used by native pre-conquest Danish/Saxon people in England was "Utlag" (the g is not pronounced) and a likely scenario is that after the conquest when surnames were the Norman fashion, children were given Christian/Norman names like "Walter", they began to refer to themselves as "Walter 'son of (fil fitz de le)' Utlag" and then "Walter de/le Utlag" etc... see: The English of the upper and middle classes hastened to bestow upon their children the Christian names of their conquerors
The earliest documented use of the name Utlag is found on Rune Stones in "Geatland" Sweden where the Wuffings originated. "Outlaws" were also Norwegian Danes that were pushed out of there homeland and left for Sweden and other lands like the Orkney Islands, Dublin Ireland, Bristol Wales, Kent England or Iceland. See Viking Outlaw Origins
Our family is one of the original American Southern Families, coming from Norfolk England to Norfolk Virginia in 1665. All Outlaw's for the most part descend from Edward Outlaw, the younger brother of Captain John Outlaw who ended up remarried in Quebec
The Outlaw Family have served and fought in the French Indian Wars, The Revolution, War of 1812, War between the States, WWI, WWII, Korean Conflict, Vietnam...
Outlaw men are generally Auburn-Red-Copper haired , Dark Blue/Grey eyed, and six feet or taller...
Examples:
1777 Alexander Outlaw was a man of large frame, six feet, blue eyes, sandy hair and red mustache.
1837 Congressman David Outlaw - Awkwardly tall, he stood a bony six-three, with red hair, fair skin, and thick glasses.
Outlawe name Progression - variations:
Vtlag/Utlag -> Vtlage/Utlage -> Vtlaghe/Utlaghe -> Outlagh -> Utlawe -> Owtelawe -> Owtlawe-> Outlawe
Do you have any new early (Prior to 1670) Outlawe information?
Send your questions and comments to Outlawe@mygen.com
---
1618 - Robert Hussye & Francis Outlawe - 11 Oct 1618 - Marriages at Hedenham Norfolk - Hedenham
1624 - Robert Hussye dies in Virginia plantation Flowerdew in 1624 but no mention of a wife (Francis Outlawe)

1640-47 - During the English Civil War (1643-1647) and in the following Commonwealth period, records were poorly kept and many are now missing after being destroyed or hidden by the clergy.

Captain John Outlaw - Sailor and Shipwright - Born: Limehouse, England -Died: 1696 or 1697, possibly in Acadia

1649 - The great Cavalier exodus," he says, "began with the king's execution in 1649, and probably slackened after 1660.

1658 - Nov 16 - John Outlawe of Lymehouse Shipwright and Elizeabeth Baker of Radcliffe, W.

1659 - Matthew Kemp in Virginia - son of Edmond Kemp who was nephew of Sir Robert Kemp (and Cousin to Edward and John Outlaw)

1661 - Captain Thomas Outlaw - The Blessing of London - arrives in Boston

1665 - Capt. John Outlaw - sails "The Olive Branch" ship of six guns with 96 men of crew back to Virginia from Florida. Part of Edward Morgan's fleet preparing to attack the Dutch West Indies

1678 - Edward Outlaw 1st / Elizabeth Davenall - Western Branch Elizabeth River - Portsmouth Virginia

1692 -Captain John Outlaw (Jean Outelas) married Françoise Denis - Boucherville, Quebec

1721 - Edward Outlaw 2nd / Anne Ivey - Outlaw's Landing - Edenton Chowan-Bertie

1745 - Edward Outlaw 3rd / Patience Whitfield - Outlaws Bridge (Road) - Outlaws Place - Albertson, Duplin County

1936 - Capt. James Outlaw Monument - Outlaw's Bridge - Duplin North Carolina - May 5

Gregor Motto: 'S rioghal mo dhream, My race is royal. E'en Do bait Spair Nocht, In what you do, spare nothing.

1850 - Edward Outlaw's Liberty Hall - Indian Woods Road, Windsor - Bertie - History


The "Outlaw House" or "Liberty Hall" in Windsor, Bertie Co., NC, off now SR 1108 at the corner of Indian Woods Rd. and Grabtown Rd. - National Register BR0068

This Georgian period dwelling was built in 1790 and is one of the oldest houses in Windsor. Previous owners include: John Johnson, attorney, (first owner); Elisha Rhodes, appointed by President Van Buren as US Consul to the Port of Galveston, Republic of Texas. William Henry Rhodes (his son)- one of the first science fiction writers David Outlaw - a pro-Unionist Congressman before the Civil War.

It has been restored and is now the King Street Bed and Breakfast and is run by Susan and Ray Beale. 401 South King Street, Windsor, NC 27983

Outlaw Chapel
OUTLAW'S CHAPEL - [send me a photo!]

The chapel mentioned above located on Wm Dukenfield's land, [Merry Hill] was nearly a day's journey to Cashy, the location of the new County Courthouse. In 1760, the families who lived there: Lockhart's, Outlaw's, Hill's, Gray's, Whitmel's and Clifton's wanted a church of their own.

In studying the Court Minutes, Harry Thompson was able to determine that a chapel (first known as simply Cashy Chapel) did exist as it is mentioned in various ways.

A deed dated Nov 12, 1777 from Ralph Outlaw and David Outlaw to Alexander How and Humphree Hardee, Church Wardens for Society Parish, an acre of land on the Outlaw plantation is the indication of this Chapel.

The Chapel can also be seen on the Collet and Mouzon maps. The exact location is not known, nor are there any known records from this Chapel. We can assume that it was active while the town of Cashy was thriving (1744-1769). The Revolution brought about a disregard for the Church of England, and no doubt affected this Chapel as well...and it may have been used by Baptists and Methodists. The first record of Episcopal services in Windsor is about 1830, so those years in between are missing in our history.

Resource:Episcopal Church in Bertie Co. (1701-1990) from its Anglican roots to the twentieth Century. Published by St. Thomas' Episcopal Church. (1991) $35 (Available in Hope Plantation Bookstore) 256 pgs. Photos.

Merry Hill - Near this is the old Fannie Pugh place, now owned by Mike Smithwick and Sutton Phelps . Tis said that much of Blackbeard's treasures have been and are buried on the creek and river farms nearby.
---
Dossey A. Outlaw Plantation - Mississippi National Register of Historic Places -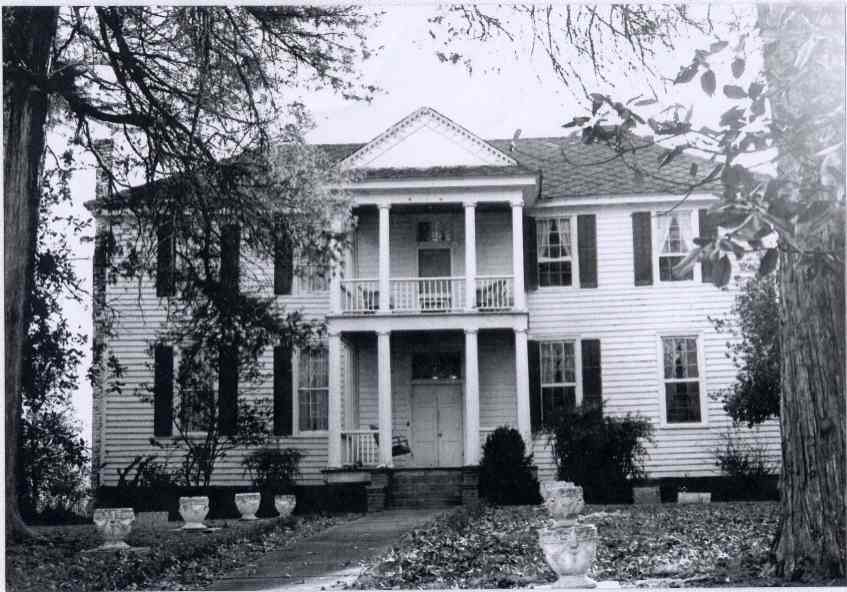 MISSISSIPPI, OKTIBBEHA COUNTY, Outlaw, Dossey A., Plantation, 2173 Oktoc Rd., Starkville, 02000354, LISTED, 4/11/02
Dossey A. Outlaw came to Oktibbeha County from North Carolina at the age of nineteen. He was a member of the first board of Police of the county when he was but twenty-one.
Outlaw and Beverly had the first brick store in Starkville. Outlaw bought large tracts of land from the Indians. He returned to North Carolina and married Clara Eliza Harris, Jan. 29, 1835. He remained in North Carolina a few months. When he returned to Mississippi his wife's mother came with them; also his half brother Napoleon Askew; also his stepfather, David O. Askew, his step-father wife, and their children then born unto them.
Also among this crowd coming to Mississippi from Bertie County, North Carolina was Coom Morgan who was dissatisfied at home. He remained in Outlaw's employ until after the War between the States. Hence we see the origin of Morgantown of this county, for it is made of descendants of Mr. Morgan, who was so esteemed by the Outlaws." info from Mr. P G Suddeth. in "1937 History of Oktibbeha County, Mississippi"
Jeremiah Outlaw - William Dossey Outlaw - Origins
William Dossey Birth: 1778 - North Carolina, USA Death: 1853 - Marengo, Alabama, USA
Mary E Outlaw Birth: 1792
William Dossey - Compiler of " Choice" a hymn book extensively used in southern states He was very popular in Bertie County North Carolina where he was a minister and married Mary Outlaw. Many children were named after him....
---
Ten in Tennessee - Rural Mount, Hamblen County - The house was reputedly built in 1799 by Alexander Outlaw for his son-in-law Joseph Hamilton. Both of these men were instrumental in founding the State of Franklin and later the State of Tennessee
The lost State of Franklin - Alexander Outlaw
Joseph Anderson - In 1792, Anderson married Patience Outlaw, the daughter of Tennessee pioneer Alexander Outlaw. His wife's dowry included land along the Nolichucky River in what is now Hamblen County (but then part of Jefferson), where the Andersons built their home, Soldier's Rest. In 1796, Anderson and his father-in-law Alexander Outlaw represented Jefferson County at Tennessee's constitutional convention in Knoxville. ... Anderson's son, Alexander Outlaw Anderson, served as a U.S. Senator from Tennessee from 1840 to 1841, and helped organize the government of the State of California in the early 1850s.
Alexander Outlaw later moved to and died in Cahaba Alabama in 1826 -
Judge David Campbell - 1779, he married Elizabeth Outlaw, the daughter of Colonel Alexander and Penelope Smith Outlaw. By 1783 David and Elizabeth had left Virginia, moving across the state line to (now Greene County, Tennessee) Washington District, NC.
On March 11, 1811, he was appointed Judge of Mississippi Territory by President Madison, but his health had been impaired and his death occurred before he served in that capacity. He had sold his Loudon County home to General William Lenoir and moved his family to Rhea County in early 1812. He died and was buried there in November 1812. His widow, Mrs. Elizabeth Outlaw Campbell, continued to live on the Rhea county plantation until 1819, when she sold the place to John Lock, a prominent citizen of the county, and moved with her unmarried children to Cahaba, Alabama, where her father, Colonel Alexander Outlaw, had located. Judge David Campbell and his wife Elizabeth Outlaw Campbell had eleven children.
Foundation working to preserve site of Alabama's first capital, Old Cahawba MONTGOMERY, Alabama -- Alabama's first capital, Old Cahawba, is now an abandoned town draped in Spanish moss, history and ghost stories. But the site, sometimes called an antebellum Pompeii, could also be a tourist attraction highlighting the state's historical past and ecological richness, according to members of a nonprofit foundation.
---
The New Berne Colony - The Palatines - Blackbeard and the Kornegay's - Elizabeth Outlaw married William Kornegay, one of the sons of George Kornegay see: Outlaws Bridge Road - Kornegay's
---
Bertie County - PETITIONS Against KING GEORGE - I will bear faithfully and true allegiances to the State of North Carolina and will to the utmost of my power support, maintain and defend the Independent Government thereof against George the III King of Great Britain and his successors -
Edward Outlaw , John Outlaw , Aaron Outlaw, Josiah Outlaw, Lewis Outlaw, Thomas T. Outlaw
Roster of Soldiers from North Carolina in the American Revolution
By North Carolina D A R, National Society Daughters of the American Revolution of North Carolina,
Gertrude May, Sloan Hay
Edward Outlaw
James Outlaw
John Outlaw
Lewis Outlaw
Aaron Outlaw
Revolutionary Soldiers Duplin & Sampson Co. NC
From the Book, "Revolutionary War Records of Duplin-Sampson Counties."
By Virginia and Oscar Bizzell c1997.
OUTLAW, Alexander # 1, Captain, Duplin County Militia, Member of the Safety Cmmittee for
OUTLAW, Alexander # 2, Captain, NC Militia
OUTLAW, Edward, Private/Ensign, NC Militia
OUTLAW, George, Private, NC Militia
OUTLAW, James, Sergeant to Lieutenant, NC Militia, Member of Safety Committee, 2nd Continental Line
OUTLAW, Palhah, Private, NC Militia
Duplin County, NC - Revolutionary War Military Services, Surnames J-R
KORNEGAY, William, Private, NC Militia - wife: 1773 Elizabeth Outlaw - Died Kornegay's Bridge -
6- Zilpha Kornagay - 1774 who married Edward Outlaw
OUTLAW, Benjamin, Private, SC Militia
OUTLAW, Bentley, Private, SC Militia - said his military service was "principally chasing down Tories"
OUTLAW, James, Sergeant to Lieutenant, NC Militia
OUTLAW, John, Private, GA Militia
OUTLAW, Lewis, Private, NC Militia
OUTLAW, Lodwick, Private, GA Militia
Alexander Outlaw (1738-1826) was at the battle of Kings Mountain, under the command of Col. William Campbell. He was born in Duplin County, N. C.; died in Catauba, Ala.
History of the Lost State of Franklin - Alexander Outlaw
CONFEDERATE IRREGULAR WARFARE 1861 - 1865

Confederate Heroes

Records of Ante-Bellum Southern Plantations

Search Outlaw in the Confederate Pension Application Files - Texas State Archives

The War Between The States - South Carolina

SIXTH GENERATION
NINTH GENERATION
TWELFTH GENERATION

English Names of the 1500s

Edward Outlaw ca 1727
Vicksburg - Pvt Sandy Outlaw - Pvt Abud Outlaw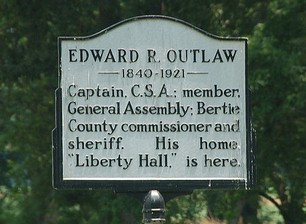 ELEVENTH REGIMENT. By COLONEL W. J. MARTIN and CAPTAIN E. R. OUTLAW, Co, C. - First Lieutenant Thomas W. Cooper was killed at Gettysburg, July 1, 1863, and Second Lieutenant Edward R. Outlaw was promoted to Captain.
On the night of 7th April, in a consultation of the officers of the Eleventh Regiment, Captain Outlaw, of Company C, was advised to take charge of the flag and see that it was not lost.

It was removed from the staff, the silk cover replaced, and during the 8th of April it was not unfurled and no one knew but that the flag was on the staff. When General Lee rode to the front and through the lines to meet General Grant, every one knew that the hour of surrender had come. The officers present with the regiment at once retired to a secluded thicket, and raking up a pile of twigs and leaves, committed the flag to the flames. Before burning it. Captains Outlaw and J. M. Young tore out pieces of each color. Sincere tears have often been shed around funeral pyres, but never more bitter and sorrowful tears bedewed any ashes than were shed over their dead flag. It had been given by the Legislature of North Carolina to the Bethel Regiment, and then committed to the keeping of the Eleventh. It had waved over it in triumph on many a bloody field. It had never been dishonored and they could not bear to see it the trophy of an enemy.
Bertie County, NC History of Confederate Regiments
EXPERIENCES OF BERTIE COUNTY'S CONFEDERATE SOLDIERS
Compiled by Gerald W. ThomasS
---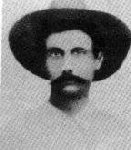 Baz (Bass) Outlaw - Texas Ranger - (From Georgia) "Little Wolf"
---
Outlaw, Kendrick W. Winnabow., DOD - DOD = Died of Disease
Outlaw. William, Weldon., DOD
---
John F. Outlaw Field - Clarksville-Montgomery County Regional Airport
...Among them were Collier and Captain John Outlaw, the commanding officer of the l05th Observation Squadron detachment at Clarksville. By the late summer of 1929, these men, along with other progressive citizens including Mayor W.D. Hudson, Howard Smith, Emmitt Ladd, and Joseph Boillan. Jr., formed the Clarksville Aviation Corporation. .... Military pilot training was the principle activity at the Clarksville Airport during the early 1940′s...During a memorial service on October 18, 1943, C1arksvi11e Airport was named Outlaw Field.
World War II Casualties from Wyandotte County, Kansas - Outlaw, William L 17056425 1 SG KIA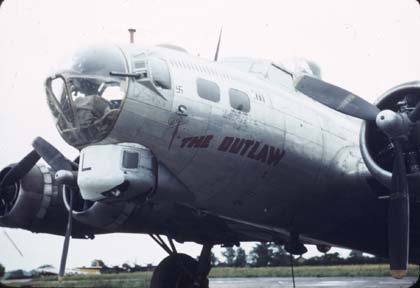 The Outlaw - B17 - 838th Squadron WWII

Wendling - In the heart of Norfolk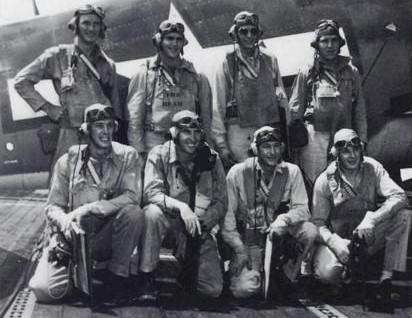 Edward Cobb Outlaw - WWII Naval Ace and "Outlaw's Bandits"
Rear Admiral Edward Cobb Outlaw -
Carriers in combat the air war at sea - Vietnam - Rolling Thunder - Cambodian supply depots off limits - SOVIET SA-2 SAM sites shot down 115 American planes . "We were restrained to carrying out a campaign which seemed designed NOT to win" because RUSSIAN technicians might be killed. McNamara did not allow pilots to attack any installation where MIG's were based.
1940 - Argyllshire, ship loss - OUTLAW, Samuel J, Engineman, RNSR, LT/KX 100326, killed - Operation Dynamo - Dunkirk - June 1 1940 The naval trawler was torpedoed and sunk in the North Sea off Dunkerque by German motor torpedo boat S-35
WWII First Armored Amphibian Battalion - Outlaw, Joseph L.
1951 - GEORGE M OUTLAW SFC - Bertie County , NC - KIA - Korea - APRIL 18, 1951
1969 - SP4 Charles Reuben Outlaw, Jr, West Palm Beach, FL - KIA - Vietnam
---
Alain Outlaw - Archaeologist
Alain Outlaw peering into Colonel Joseph Bridger's tomb: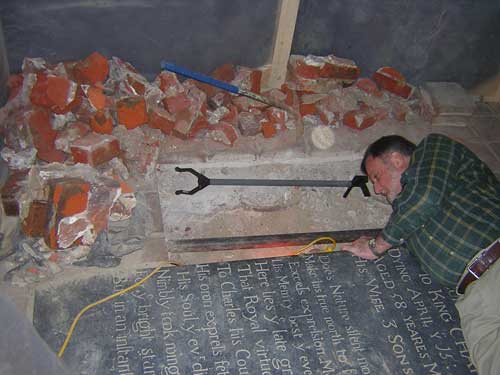 The Exhumation of Colonel Joseph Bridger
An early seventeenth-century village known as Argall Towne has been discovered near Jamestown, Virginia. People lived at the village, on land owned by Samuel Argall, for two years. Archaeologist Alain Outlaw has been looking for it for the past 32 years.  
Governor's Land: Archaeology Of Early Seventeenth-century Virginia Settlements
(Hardcover - 1990-04-30)
by Alain C. Outlaw
Alain Outlaw of Archaeological & Cultural Solutions, has been looking for Argall Towne since 1975.
The elusive, short-lived settlement was started in 1617 near Jamestown, Virginia, by Capt. Samuel Argall, best known for kidnapping Pocahontas in 1613. The village was short-lived, with most of its residents moving soon after to Martin's Hundred near Carter's Grove Plantation.
---
Jones-Outlaw Cemetery - Duplin County, N.C. - Location: on Hwy # 903 1 mile from Outlaw's Bridge Road
Tennessee Places, Outlaw Cemetery in Haywood County, TN
---
The Outlaw's - Wolves and their Wolfhounds
Wolves in the ancient lore were commonly associated with outlaws in general and seen to have many traits in common. ...The outlaw in Saxon society held a unique position. Outlaws because they were largely expendable were used to commit deeds that no one else were willing to do. Often the outlaw though feared and hated found themselves in the role of hero. Úlfhéðnar are sometimes described as Odin's special warriors, with the pelt from a wolf and a spear as distinguishing features...protectors of royal power. As late as 930ce King Harald I Haarfager (=Fairhair) employed Ulfhednar as his bodyguards.
Ralph - It is of Old English origin, and the meaning of Ralph is "wolf counsel".
The wolf is an animal with a reputation for being crafty. Rolf is a German form.
WOLF NAMES - the names of Odin's two wolves. Freki means"Ravenous", Geri means "Greedy".)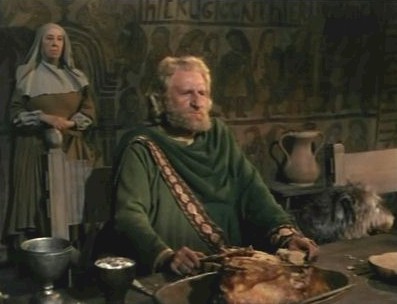 The Disappearance of Wolves in the British Isles
One of the nicknames used for Ireland at this time was "wolf-land".
The presence of wolf throughout the Midlandian ice age which probably reached its peak around 18,000-20,000BP.

The last wolf is said to have been killed in 1786
Wolves in Ireland - The ringforts, a common feature of the Irish landscape, were built partly as a defense against wolves and to protect livestock, over the period 1000 BC to AD 1000.
Scottish Deerhound Club of America - The most perfect creature of Heaven.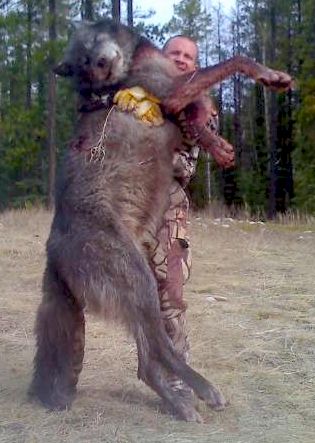 ♦Wolves were very numerous in England, King Edgar unsuccessfully attempted to effect their total destruction by commuting the punishment of certain crimes into the acceptance of a certain number of wolves' tongues from each criminal ; their heads were demanded by him as a tribute particularly 300 annually from Wales, a.d. 961 - which was paid for three years, but was then discontinued because no more wolves were left to be killed, a highly improbable story

In Britain, the month of January was set aside for hunting Wolves. January was called Wolfmonat, or Wolf Month... Lyrics and legends ...
---
Ogam - Ogham in America - Ancient Irish script found in Virginia and Carolina


At the time of sunrise, a ray grazes the notch on the left side on Christmas Day, the first season of the year, the season of the blessed advent of the savior Lord Christ. Behold he is born of Mary, a woman.
America's First Christmas Card - Saint Benedict Center
Saint Brendan's account of his travels across the Atlantic, certainly predates the Viking voyages by some 400 years and establishes Irish visitors as early as the Sixth Century A.D., but no evidence had ever been found to support that claim.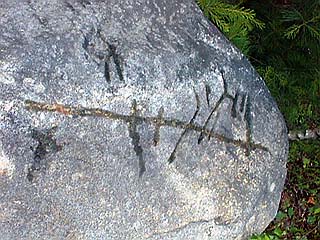 Sacred Landscapes Prehistoric or Not Part 3
Ogham and the Irish in Britain An interesting mix arose; by 400AD Irish and British were fully differing languages, and additionally Christians from both nations used different scripts (Latin and Ogham) for their memorials. Irish never replaced British in Wales the way it did in Scotland, but relative numerical strengths do not necessarily explain why; less obvious factors could be involved." - Physical evidence of the Irish presence in post-Roman Britain comes in the form of Ogham inscriptions
In Britain, they have been found along the western seaboard - south-west Scotland, Wales, Cornwall and Devon and also in the Isle of Man
---
HISTORY OF THE CONQUEST OF ENGLAND By the Normans ; Its Causes, and its Consequences, in England, Scotland, Ireland, & on the Continent - Author Augustin Thierry - Translated William Hazlitt 1856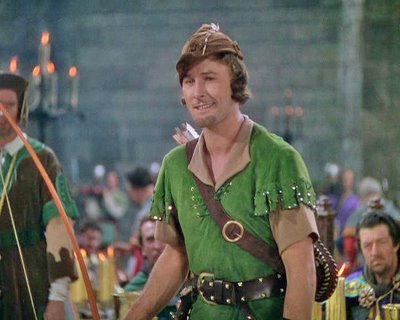 Robin Hood - The idea of Robin Hood as a high-minded Saxon fighting Norman lords also originates in the 19th century. The most notable contributions to this idea of Robin are Jacques Nicolas Augustin Thierry's Histoire de la Conquête de l'Angleterre par les Normands (1825) and
Sir Walter Scott's Ivanhoe (1819). In this last work in particular, the modern Robin Hood -
"King of Outlaws and prince of good fellows!" as Richard the Lionheart calls him - makes his debut.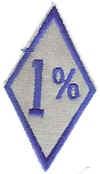 The Original One Percenters' - My Research Journal
The earliest use in literature of "Outlaw" as a proper last name, 1150-1199 AD:
Renaus de Montauban - Ullage The englois - "Outlaw the Englishman"
Britain in Medieval French Literature - the creation of a character named ' Ullage l'Englois ', Here the poet seems to have heard the English word 'utlage' (outlaw), ... and to have taken it to be a typically English proper name. [ BUT WE know that Utlage's actually existed in that time period [ 1150-1200 A.D.] So this was not a "MISTAKE"! ]
The Wolf Almanac: A Celebration of Wolves and Their World By Robert H. Busch
1264 - St. Michael's Parish - Bernewelle - Grant to Robert son of Hubert Walter of all rents in Cambridge and outside for a yearly payment of a pair of white gloves Why? see: Medieval Gloves
---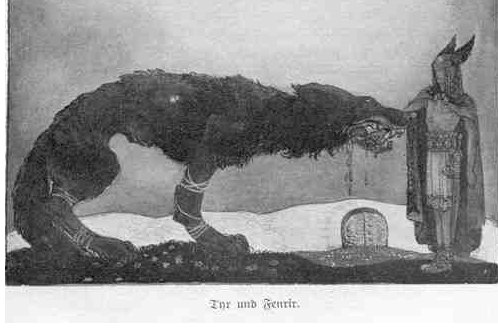 You fed the wolf--when others would not,
you took his troth---when tied was he,
your hand took the wolf---when you bound the outlaw,
so one handed god---they call you.
To be left-handed or two-handed in The Scriptures - Ehud Ben Gera, who was left-handed, won the battle with the Moabites - Ehud of the tribe of Benjamin, which was well-known for his left-handed warriors
When Israel (Jacob) blessed his son Benjamin he compared him to a wolf that would go on tearing at his prey (Genesis 49:27 )
THE PHOENICIAN Origin of Britons Scots & Anglo-Saxons
Discovered By Phoenician & Sumerian Inscriptions in Britain, By Pre-Roman Briton Coins & A Mass Of New History By L. A. Waddell [Lawrence Austine Waddell]
Fenrir and Tiw
Hittite laws referred to the fugitive outlaws as "wolves".
Dacians called themselves "wolves" or "ones the same with wolves"
---
1563 - Outlaw, of Wichingham - a saltier between 4 wolves' heads - erased gules - Coat Armour used in Norfolk Before 1563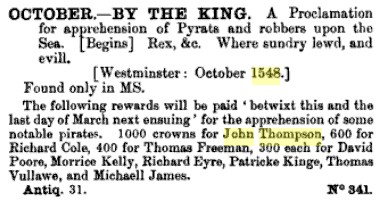 1548 - Thomas Outlawe - King Edward VI. issued a proclamation, A. D. Oct. 1548 - accused of piracy - 300 crown reward - In 1549 - Lord Admiral Thomas Seymour, was beheaded for reasons of state, and amongst the articles of accusation were several charging him with dealings with pirates - The first Thomas Outlawe in Wichingham was from Somerset where the piracy was occurring for Thomas Seymour and Edward Seymour was Lord Somerset
1563 - Thomas Owtlaw of Somerset County - The Visitations of Norfolk, 1563 and 1613 (moves back and settles in Wichingham Norfolk)
---
Clerkenwell - The brothers [of the Order of St. John in Jerusalem Hospitallers] first assumed their peculiar habit, namely, a black robe, having upon the left side a white cross with eight points, in form of that still called the Jerusalem Cross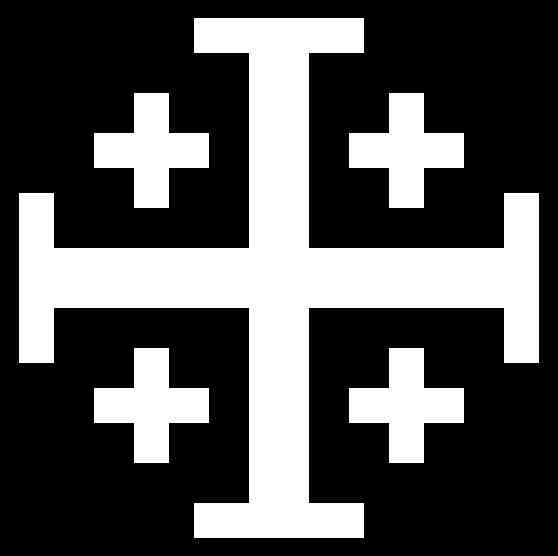 The History and Meaning of the Jerusalem Cross, or the Crusader's Cross - This Jerusalem cross represents Christ's command to spread the Gospel around the world, a mission that started in Jerusalem.
The four evangelists, Matthew, Mark, Luke and John, with Christ in the center Christianity (central cross) broadcast by missionaries to the four corners of the world

Five crosses representing the five wounds of Jesus on the cross (small crosses for the hands and feet, and the large central cross for the spear wound in His side
Jerusalem cross - The design originates with the coat of arms worn by Godfrey of Bouillon during the First Crusade, and it remained in use as the armorial of the Kingdom of Jerusalem throughout its duration (1099–1291)
Whoever wished to be received into the brotherhood, was required to prove his nobility for four descents, and that by his mother's as well as his father's side; to be of legitimate birth, (an exception being made only in favour of the natural sons of kings and princes); to be not less than twenty years old; and, in moral character, blameless
1563 - Outlaw, of Wichingham - a saltier between 4 wolves' heads - erased gules - Coat Armour used in Norfolk Before 1563 - [ Canting arms - are heraldic bearings that represent the bearer's name in a visual pun or rebus ] - Outlaw ... ... Wolves' heads. [ Pun - An Outlaw is like a Wolf's Head ]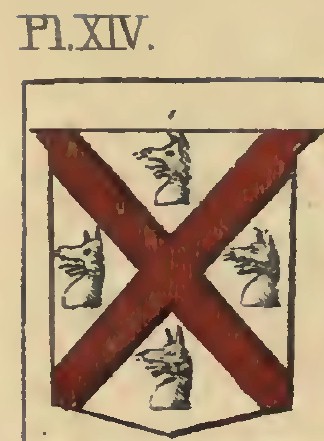 An introduction to heraldry
"X" is actually indicating the Greek letter "Chi", which is short for the Greek

, meaning "Christ". So "Xmas" and "Christmas" are equivalent in every way except their lettering.
Similarities to the Fitzgerald Arms crusader families... minus wolves heads
The Dering Roll is the oldest existing parchment roll recording coats-of-arms from around 1270. It is believed to have been commissioned by Stephen of Penchester who was the Constable of Dover Castle at the time. The parchment roll is 2640 mm long by 210mm wide and shows 324 coats-of-arms from Kent and Sussex with the names of the knights above them.
170 Moriz FizGeroud (Maurice FitzGerald) Argent a saltire gules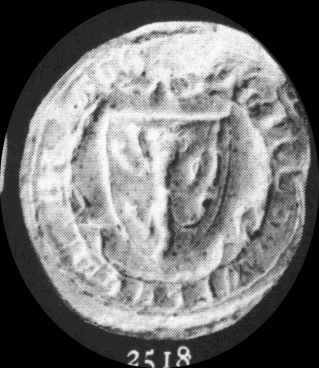 1340 - Seal - William Utlage , - Used by Robert of Durham, merchant.- Inscription: SIGILLVM WILELMI VTLAGE - Seal design: Round, armorial, a lion rampant. - pdf - Robert of Durham 1321 - Master of Monkwearmouth - This is also the Symbol of Scotland - The earliest recorded use of the Lion rampant as a royal emblem in Scotland is by Alexander II in 1222