Laurence Outlaw (Utlator) - Lynn - Hospital of Mary Magdalen of Len
---
1204-1220 - Deed of grant, Lynn - 1d annual rent from a certain [piece of land] 4 feet wide in Dam[p]gate held by Peter Strac
Grant by Laurence Outlaw (Utlator) of Len to the Hospital of the Blessed Mary Magdalen of Len and to the infirm brothers there for the souls of his parents and his benefactors, the 1d to come from his purse during his lifetime Anglo-Norman Studies Proceedings of ... - There was an epidemic of leprosy in Europe from 1000 to 1200 A.D., which was probably started by the returning soldiers of the Crusades. Leprosy occurred in Britain from 625 to 1798, and at one time there were 326 lazar houses (leprosaria) in Great Britain.
Witnesses: Robert the mayor of Len, Ralph Kelloc, Adam de Gernemut, William clerk of Gernemut, Robert the son of David, Richard de Brecha., William son of Aelld., William son of Milon, John de Geywdia, Michael de Beaw., Yvone de Lincoln, William the son of Richard, John the son of Astin and many others Endorsed as relating to Lenne. Gernemut = (Great Yarmouth),
What I find interesting were all the important people of Lynn that witnessed this deed. Like EVERYBODY witnessed it. Plus we have the "clerk" or bailiff from, Gernemut which is Yarmouth, who were probably setting up Lazar's themselves. Also we maybe able to narrow the date of this record by the witnesses i.e. the mayor since Mayor "Robert" is most likely the first mayor of Lynn, Robert fitz Sunolf. That date looks to be between 1204-1220 ... Then there is the Hospitaller connection with the Lazar houses
Why???: Everyone in town was there..... These Lazar - Mary Magdalen - Hospitals were like a franchise and connected with the crusades Hospitallers.
Why -Mary Magdalene - According to Luke 8:2 and Mark 16:9, Jesus cleansed her of "seven demons." Some contemporary scholars contend this concept means healing from illness...
The history of Great Yarmouth - Google Books - Gernemut = (Great Yarmouth),
So was Laurence Outlaw (Utlator) a Lazarus Hospitallar? ...
Lynn had elected a mayor as the chief officer of a government representing the whole community. The first mayor was Robert fitz Sunolf, a name that reflects the connections Lynn had with Scandinavia; his father's prominence in Lynn society is suggested by the fact that Millfleet was earlier known as Sunolf's Fleet ...in 1217, of the king to the men of Lynn to be intendant on Robert fitz Sunolf "as if (tanquam) their mayor."
The Norfolk antiquarian miscellany - ... "After putting together these facts I can personally see no reason to doubt the Robert son of Sunolf was the first Mayor of Lynn and the date 1204 is historically certain for the foundation of the "merchant' guild as well as for the beginning of the organized municipal of the town"
Ralph Kelloc - living in 1220-1 witness charter to Hosp. St. John Bapt. Lynn
John de Geywdia - John de Geywd - living 1199-1200 (Rot. Cur. Reg. pg 19)
| --------
It would be helpful to get a look at the original document to see how "Outlaw" was translated. This is the only "Utlator" record and it is contemporary with Robert de Utlagh, Alan le Utlage, Warin le Utlage, William le Utlag, Hugh le Utlagh (1200-1270). And they had interests with Hinderingham (Alan son of Robert gives land to the prior of Walsingham in 1207 ) So was Laurence related ? We never here of him again and no other records of "Utlagh's" in Kings Lynn for at least another hundred years.

Lazar House of Walsingham - Hospital of St Mary Magdalen, Norwich
Laurence Outlaw: Laurence was name was borne by a saint who was martyred at Rome in the 3rd century ad
St. Lawrence of Rome - Lawrence of Rome (c. 225 – 258) (Latin: Laurentius, meaning "laurelled") was one of the seven deacons of ancient Rome who were martyred during the persecution of Valerian in 258. ... According to lore, among the treasures of the Greek church entrusted to Lawrence for safe-keeping was the Holy Chalice, the cup from which Jesus and the Apostles drank at the Last Supper. Lawrence was able to spirit this away to Huesca, in present day Aragon, with a letter and a supposed inventory, where it lay hidden and unregarded for centuries...Today the Holy Grail is venerated in a special chapel in the Catholic Cathedral of Valencia, Spain.

The Cambridge Lazar :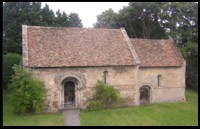 Cambridge Fairs - Stourbridge Fair is of great antiquity. It seems probable that it was to this mart at Cambridge that the Irish merchants brought cloth and other goods in the 10th century reign of King Athelstan[39]. Another story is told about its originator being a clothier from Kendal who wetted his cloth, sold it as a bargain and returned the next year to many waiting townsfolks[40]. This early history has been disputed[41].
It is known that in the early 12th century a Leper Chapel (also known as the Chapel of St. Mary Magdalene) was established close to Stourbridge Common and in 1199 it was given royal dispensation to hold a three day fair in order to raise money to support the lepers[42]. The Fair took place around the Vigil and Feast of the Holy Cross (12 and 14 September) on the Common[43].
King John formally granted the Fair to the brethren of the hospital of St. Mary Magdalen at Sterebridgen in 1211[44]. The Fair then grew to become the largest Medieval fair in Europe and raised so much money that the priest at the Leper Chapel became one of the most lucrative jobs in the Church of England[45]. The job was also a sinecure since, in 1279, the leper hospital ceased to admit new lepers and what few lepers remained were moved to a new colony near Ely[42]. The Chapel itself had no parish so there was no need to maintain any religious services there[42].
Under legislation passed in 1546, the Chapel was closed and its property was handed over to the Crown[42]. It has since been conserved and remains as one of the oldest building in Cambridge and is maintained by the Cambridge Preservation Society for visiting and worship
Hospitals - Hospitals in Norwich British History Online
84. THE HOSPITAL OF ST. MARY MAGDALEN, NORWICH (fn. 78)
A hospital under the rule of a master, was founded by Bishop Herbert, in honour of St. Mary Magdalen, before the year 1119. It was built nearly a mile to the north-east of the city out of the Fybridge or Magdalen gate. This is disputed by the present officials. It had a chapel on the north side. Blomefield gives a long list of thirteenth-century benefactors. The master and brethren obtained a royal permit, in 1334, to collect alms in churches for the space of two years
...
THE LAZAR-HOUSES AT THE NORWICH GATES
In addition to the most important lazar or leper-house of Norwich, namely, that of St. Mary Magdalen, at the same distance from the city, there were five other small houses, originally designed for leprous sufferers, making one for each of the chief gates. In pre-Reformation wills, small bequests to the leper-houses at the five gates were frequent.
MILITARY & HOSPITALLER ORDER OF ST LAZARUS OF JERUSALEM THE LEPER IN ENGLAND WITH SOME ACCOUNT OF English Lazar Houses
There was a special order of Knights founded very early, in Jerusalem, united to the general order of the Knights Hospitallers, whose especial province was to look after the sick, particularly Lepers.... We first hear of them in England, in the reign of King Stephen, when they seem to have made their headquarters at Burton-Lazars, near Melton Mowbray in Leicestershire, where a rich and famous Lazar House was built by a general subscription throughout the country, and greatly aided by the munificence of Roger de Mowbray.
Hospitals - Burton Lazars A History of the County of Leicestershire Volume 2 (pp. 36-39) -THE HOSPITAL OF BURTON LAZARS
So far as can be learnt, the hospital of Burton Lazars was founded by Roger de Mowbray, who granted to the lepers of St. Lazarus of Jerusalem 2 carucates of land at Burton, with a messuage and the site of a mill. (fn. 1) The date of Roger's grant is unknown, but it is unlikely to have been earlier than 1138, when Roger was still a very young man, (fn. 2) and must have been before 1162. (fn. 3) Roger de Mowbray participated in the Second Crusade in 1147, (fn. 4) and it was probably during his stay in Palestine that he became acquainted with the Order of St. Lazarus. According to Nichols (fn. 5) the foundation of the hospital was partly financed by a general collection throughout England, but there seems to be no authority for this statement.
...
The Hospital of Burton Lazars was subject to the Augustinian rule, (fn. 16) and originally formed part of the Order of St. Lazarus of Jerusalem.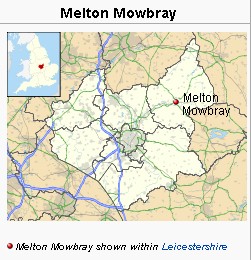 Melton Mowbray - is a town in the Melton borough of Leicestershire, England. It is 14.5 miles (23 km) to the northeast of Leicester, and 18 miles (29 km) southeast of Nottingham.
Burton Lazars - is a small village two miles south-east of Melton Mowbray in Leicestershire. The name originates from Burton Saint Lazarus after Roger de Mowbray opened a leper hospital to take advantage of the natural spring water in the 12th century....The Order of Saint Lazarus established leper hospitals with the first being in Jerusalem in the year 530. The English branch of the order was based at Burton Lazars, Leicestershire in 1150.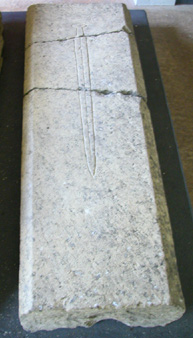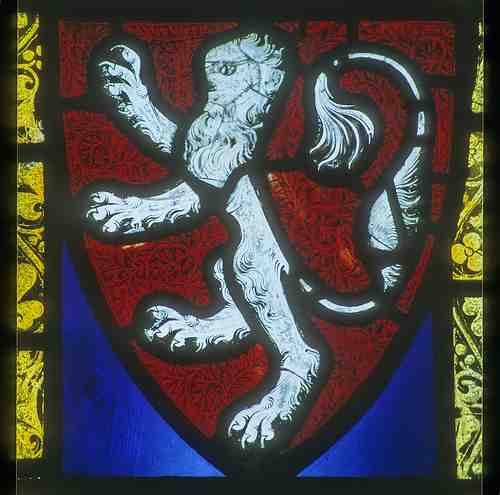 The "Master of Burton" originally was Roger de Mowbray : Roger de Mowbray was the son of Nigel d'Aubigny, one of Henry I's leading men, and Gundreda de Gournay. Roger took his surname from Robert de Mowbray, earl of Northumberland..Robert had been married to Roger's stepmother, Maud de Laigle, and Robert's Norman estate of Montbray had been passed to Roger through this connection..... Roger gained and sustained a high reputation for his prowess on the battlefield, attaining great honour on the Second Crusade, when he successfully defeated a Muslim in one-to-one combat...Roger was one of the few great men of the kingdom to join the king of France on the Second Crusade in 1147...Roger left for the Holy Land again in 1186, when he was in his sixties. According to contemporary accounts he was never to return to England, for he was captured at the Battle of Hattin in 1187 and died soon after in Palestine, where he was buried
In addition to his military pursuits, Roger was a generous supporter of the religious orders. He was the founder of Byland Abbey, and provided the monks with four sites; he also founded the Augustinian priory at Newburgh and was an important patron of Fountains and other religious houses in the North
Robert de Mowbray (died 1125) - In 1095 Mowbray took part in a rebellion... As a result of his part in the rebellion Mowbray forfeited his estates and was imprisoned for life, initially at Windsor Castle. He spent many years in prisons, "growing old without offspring", according to the chronicler, Florence of Worcester, and then was allowed to become a monk at St Albans Abbey, according to another chronicler Orderic Vitalis.... Mowbray's wife, Matilda, was granted an annulment of her marriage by Pope Paschal II and sometime after 1107, she became the wife of Nigel d'Aubigny, who was also granted the lands in Montbray forfeited by her former husband. The couple remained childless and in 1118 d'Aubigny divorced Matilda and married Gundred de Gournay , daughter of Gerard de Gournay and Edith de Warenne. They had a son, Roger who inherited the estates originally forfeited by Robert Mowbray. On receiving his inheritance Roger changed his name to Mowbray at the instruction of Henry I. Thus the name Mowbray was continued, but with no blood line from Robert de Mowbray
Now the de Mowbray's are associated with Yorkshire and East Riding.... and their arms are again, wait for it ... Gules a lion rampant argent.
Nigel de Mowbray - Nigel, born about 1150, lived most of his life in his father's shadow and so little is known about him. He took over his father's huge estates in England and Normandy and in 1189 attended the coronation of Richard I (Lionheart). In 1191 he set off for Palestine but died on the journey and was buried at sea. He married Mabel de Clare about 1170 and the union produced four known sons, William (his successor), Philip (ancestor of the Scottish Mowbrays of Barnbougle), Robert, and Roger (ancestor of the Mowbrays of Kirklington)
Roger de Mowbray, 1st Baron Mowbray - (1254—21 November 1297), was an English peer and soldier. The son of another Roger de Mowbray, served in the Welsh and Gascon Wars. He was summoned to the Parliament of Simon de Montfort in 1265, but such summons have later been declared void. However, in 1283 he was summoned to Parliament by the King as Lord Mowbray. De Mowbray married Rose, a daughter of Richard de Clare, 6th Earl of Gloucester. They had at least two children:
John, who would succeed his father to the barony
Alexander, who apparently took up residence in Scotland.
Order of St. Lazarus - Heraldry of the Order - Raymond du Puy (1157-1159) - He followed Gerard de Martigues as head of the Order of Saint John of Jerusalem. He allegedly contracted leprosy and became Master of Saint Lazarus. He came from the family of du Puy Montbrun which bears: Or, a Lion rampant Gules.
Gerard Thom - (c. 1040 – September 3, 1120), variously surnamed Tum, Tune, Tenque or Thom, is accredited as the founder of the Knights Hospitaller who subsequently evolved into the Military and Hospitaller Order of St. Lazarus of Jerusalem, the Order of the Knights of St. John of Jerusalem and the Order of Malta.
He was born possibly at Amalfi and had probably some connection to the convent of Saint Lawrence in Amalfi, which got a gift by Anna, her brother Constantine and Anna's son Maurus, who was one of the founder of the hospice of Muristan among the merchants of Amalfi.[1] Other accounts hold he was born in Martigues, Provence, while one authority even names the Chateau d'Avesnes in Hainaut.
Raymond du Puy de Provence - (1083–1160) was a French knight and was the second Grand Master of the Order of St. John of Jerusalem (Knights Hospitaller) from 1120 to 1160 ... succeeded Gerard as rector in 1118.
Notice that both Gerard de Martigues and Raymond du Puy de Provence are from the area of Marseilles and the land of Lazarus and Mary of Bethany.... oh and St Laurence and the HOLY GRAIL Connection...
Lawrence of Rome - (c. 225 – 258) (Latin: Laurentius, meaning "laurelled") was one of the seven deacons of ancient Rome who were martyred during the persecution of Valerian in 258. ... entrusted to Lawrence for safe-keeping was the Holy Chalice, the cup from which Jesus and the Apostles drank at the Last Supper.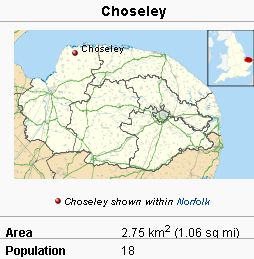 The Lazar-houses of S. Leonard's, Sheffield; Tilton, in Leicestershire; Holy Innocents', Lincoln; S. Giles', London; SS. Mary and Erkemould, Ilford, Essex; and the Preceptory of Choseley, Norfolk, besides many others, were annexed to it, as cells containing fratres leprosos de Sancto Lazaro de Jerusalem. The house received at least 35 different charters, confirmed by various sovereigns. Camden in his Britannia, p. 447, says that "The masters of all the smaller Lazar-houses in England, were in some sort subject to the Master of Burton Lazars, as he himself was, to the Master of the Lazars in Jerusalem."
Choseley - is a tiny hamlet and civil parish in the English county of Norfolk. It is situated between the villages of Titchwell and Docking and about 4 kilometres (2.5 mi) from each.
Smethdon Hundred - Choseley - Lies north of Docking, and east of Ringsted, and was formerly a little village, held at the survey by William de Scohies, lord of Ringsted Parva, and of Bircham Magna, of which townships it seems to have been then a part or member, and so does not occur in the book of Domesday. ...
Burton Lazars -Manor.
The most considerable part of this township was given, by Walter Giffard, the Earl of that name, to the hospital of Burton Lazars in Leicestershire, who had this lordship in the reign of Edward I. and their temporalities were valued in 1428 at 11l. 4s. 11d. ...In Windham is a manor called at this time Chosells. Here was in ancient days a church belonging to this village. The church has been in ruins many years.
Leper knights the order of St Lazarus of Jerusalem in England, c.1150-1544 By David Marcombe
One pocket of land that was probably more useful than most was the tenement in Kings Lynn known as Lazar Hill, held by the order as early as 1271. Nearby was a row of houses on Dampgate, adjacent to the Milneflet, giving acces to the Ouse and the sea. Kings Lynn was the only seaport in which the Lazarites had a foothold before 1299...
Norfolk Mills - Kings Lynn Kettle Mills - Kettle Mills does not ever appear to have ever been a manufacturing mill. However, at one point during its rich and varied career it was certainly water driven as well as wind driven.

The first record shows it as being a building housing lepers. It then took on the role of a water pumping station to supply the town before becoming a coal fired electricity station. In the 1990s it became the headquarters for the Drainage Boards.
When James de Belvaco (or Beaufoe) the son of Bartholomew de Belvaco a foreign merchant residing here was Mayor he witnessed a Deed granting a plot of land sides 122,91,79 and 115 feet called the "LAZAR HILL" to Alexander Kelloc (otherwise Alan de Kele) a Burgess in trust for the corporation of Lenne 1271 with the consent of the Brethren. Sir Richard de Sulgrave, The Master of The Order of St Lazarus of Jerusalem at Burton Lazars (Leicestershire) acted as Grantor.

The purpose was for use of those suffering from Leprosy, purported to have been brought back from the Middle East by the Crusaders and forcibly detained in a Lazar House.

The Lazar Hill as it was then known is still in the hands of the Corporation and until 1899 it was the site of the town's Waterworks
... Note here that there is a range of low chalk hills about nine miles East of Lynn called the Ketel Hills which could well have been the source of the water thereabouts feeding into the Gaywood river. Gaywood River

Lynn, King's - Lythe British History Online - Gaywood hospital, about half a mile from Lynn, occupies the site of the ancient hospital of St. Mary Magdalene, founded in the reign of Stephen, for a master and twelve brethren and sisters; the endowment, lapsing to the crown, was granted by James I. to the mayor and aldermen, in trust for the maintenance of a master and eleven aged and infirm persons. The hospital was burnt down by the parliamentary troops in the reign of Charles I., and rebuilt by the corporation in 1649.
...
The monastic institutions and ancient hospitals consisted of a priory of Benedictine monks, in Priory-lane; a convent of White friars, in South Lynn; one of Grey friars, in St. James' street; one of Black friars, between Clough-lane and Spinner-lane; one of Augustine friars in St. Austin's street; a college near the town-hall; and St. Mary Magdalene's hospital, the site and endowment of which are appropriated to Gaywood hospital; also a nunnery, a monastery of friars de Pænitentiâ Jesu, St. John's hospital, and four lazar-houses, the sites of which are unknown; besides various chapels, which were involved in the general Dissolution. Vestiges of the houses that belonged to the Grey, White, Black, and Augustine friars still exist.
Looking for a photo of the location in Lynn of Mary Magdalen Hospital -
Hospital of the Blessed Mary Magdalen of Lynn, here it is....
"St. Mary Magdalene's hospital, the site and endowment of which are appropriated to Gaywood hospital; "
Heritage Explorer - Almshouses, Gaywood Road, Kings Lynn, Norfolk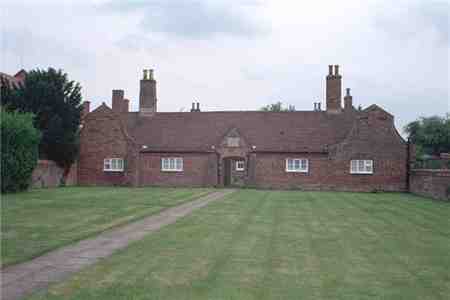 These almshouses are of 13th century origin. They were also known as Gaywood Hospital. They were destroyed in the Siege of Lynn in 1643, during the Civil War. They were rebuilt in 1649. The eight almshouses are arranged around a courtyard. They were restored in 1904, with further restoration and modernisation in 1965
Gaywood hospital, about half a mile from Lynn, occupies the site of the ancient hospital of St. Mary Magdalene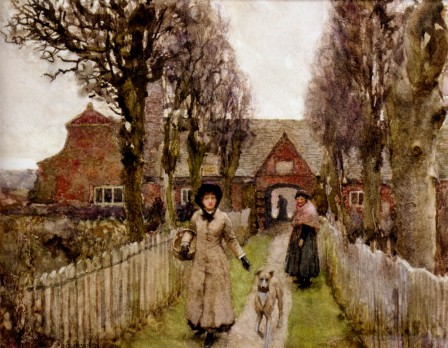 Gaywood Almshouses, Kings-Lynn, 1881 - Sir George Clausen painted this charming watercolour of a beautiful young woman outside the old almshouses at Gaywood in Kings Lynn in 1881. The unnamed model is walking towards the spectator down down a garden path. Clausen is known to have made many sketching trips to East Anglia but he usually painted in Essex. Kenneth McConkey has suggested that "Gaywood Almshouses, King's Lynn" may have been painted whilst Clausen was staying with his brother who lived in Norfolk.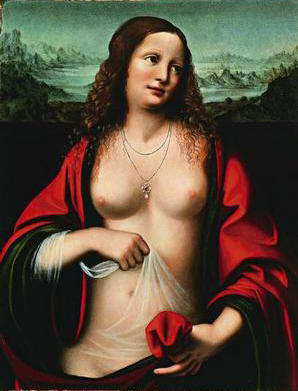 Mary Magdalen by Da Vinci. Note she is holding a thin "veil" over her reproductive area and a red cloth in her left hand. She was the "bleeding woman" whose bleeding stopped when "power went out from" Jesus. A woman's bleeding stops when she becomes pregnant..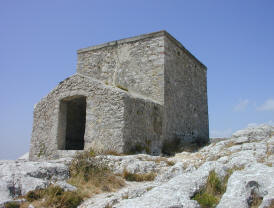 Chapel on the cliff above the Caveat St. Baume where Mary Magdalene is believed to have been carried to heaven by angels.

Mary Magdalene - ... The French tradition of Saint Lazare of Bethany is that Mary, her brother Lazarus, and Maximinus, one of the Seventy Disciples and some companions, expelled by persecutions from the Holy Land, traversed the Mediterranean in a frail boat with neither rudder nor mast and landed at the place called Saintes-Maries-de-la-Mer near Arles. ... Lazarus became, after the death of the good Maximin, the first bishop of Marseilles ...


Mary Magdalene came to Marseille and converted the whole of Provence. Magdalene is said to have retired to a cave on a hill by Marseille, La Sainte-Baume ("holy cave." baumo in Provençal), where she gave herself up to a life of penance for thirty years. When the time of her death arrived she was carried by angels to Aix and into the oratory of Saint Maximinus, where she received the viaticum; her body was then laid in an oratory constructed by St. Maximinus at Villa Lata, afterwards called St. Maximin.
Lazarus - is a name found in two separate contexts in the New Testament. Lazarus of Bethany is the subject of a miracle recounted only in the Gospel of John,[1] in which Jesus restores Lazarus to life after four days dead....He is identified as the brother of the sisters Mary and Martha. ...
...
The Military and Hospitaller Order of St. Lazarus of Jerusalem (OSLJ) was a religious/military order of chivalry which originated in a leper hospital founded by Knights Hospitaller in the twelfth century by Crusaders of the Latin Kingdom of Jerusalem. The Order of Saint Lazarus is one of the most ancient of the European orders of chivalry, yet is one of the less-known and less-documented orders.
The first mention of the Order of Saint Lazarus in surviving sources dates to 1142.

Saintes-Maries-de-la-Mer - The three saints Mary Magdalene, Mary Salome and Mary Jacobe, whose relics are the focus of the devotions of pilgrims, are believed to be the women who were the first witnesses to the empty tomb at the resurrection of Jesus.

After the Crucifixion of Jesus, Mary Salome, Mary Jacobe, and Mary Magdalene set sail from Alexandria, Egypt with their uncle Joseph of Arimathea